Vita Sciences Migravent Review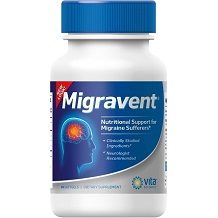 It is estimated that migraine suffers use 2.5 times the amount of prescription drugs and spend approximately thirty-five percent more on monthly healthcare costs than those who don't suffer from migraines. Anybody suffering from migraines doesn't have the time or money to waste on migraine treatments that don't really work. This Vita Sciences Migravent review is going to take a closer look at the facts and details to learn more about how this product works and to see if it's worth trying out for effective relief from migraines. The manufacturer claims that their product prevents migraines by making up for certain key nutrients and will support the mechanisms of healthy neurological function.
Ingredients
Riboflavin (Vitamin B2) – 133 mg
Magnesium – 109 mg
Proprietary Blend (PA Free Butterbur Extract, Coenzyme Q10, Bioperine) – 101 mg
Other Ingredients: Safflower oil, Gelatin capsule (fish gelatin, glycerin, purified water, lycopene complex, sodium magnesium chlorophyllin, and turmeric), white beeswax and sunflower lecithin.
Riboflavin has had studies have been done that demonstrates its ability to treat migraines. A Magnesium deficiency in the brain has been linked to migraines. It is a mineral that functions as a coenzyme for nerve and muscle function, regulation of body temperature, enzyme metabolism, DNA/RNA synthesis and the formation of bones. Butterbur Extract is standardized to contain a minimum of 15% petasin and ospetasin. Research has shown that the two active compounds in Butterbur, petasin and isopetasin. They can help reduce spasms in cerebral blood vessels and inhibit the production of leukotrienes which are compounds that trigger inflammation of blood vessels. It is also known for its spasmolytic effect. It can reduce spontaneous activity and spasms in the smooth muscular system.
Dosage
The manufacturer recommends taking one capsule three times daily with meals. They recommend continuing this supplementation program for up to 4-6 months to reach full efficacy. You should resume the supplementation program for another 4-6 months if symptoms begin to increase again.
If you are pregnant, nursing or have a known medical condition, you should talk to your doctor before taking this supplement.
Possible Side Effects
Discontinue immediate use and talk to your doctor if you experience allergic reaction like vomiting, nausea, jaundice or pain. Other possible possible side effects include diarrhea, stomach upset and slight urine discoloration.
Price
You can purchase Migravent directly from the manufacturer and from third-party retailers. One 60-capsule bottle costs $38.95 on the manufacturer's website. If you subscribe to auto-ship they will offer you a 10% discount on each order and you can get free shipping on all orders that are over $39.00. Their offer is misleading because one bottle costs 15 cents less than the minimum so in order to get a discount you would need to purchase more than one item.
Guarantee
The manufacturer offers a 30-day refund policy but does not specify if their policy applies to opened and unopened bottles.
Conclusion of Our Vita Sciences Migravent Review
Migravent appears to be a promising migraine treatment. It's primary ingredients have been shown to have the ability to reduce factors that cause migraines and it is reassuring to see that this product is backed by a manufacturer's guarantee. However, while the manufacturer does offer a money back guarantee, their policy is weak and limited. They only offer thirty days to get a refund which is not a fair amount of time to determine whether or not a supplement is working for you. Furthermore, if you follow the manufacturer's dosage instructions, one bottle will last you only twenty days which means that you will need two bottles to get through the month but the manufacturer does not offer any discounted bulk purchasing packages to make it financially easier to afford to continuously take Migravent. With so many different migraine treatments available on the market, you are better off choosing one that is backed by a strong manufacturer's guarantee and one that offers affordable purchasing options.
Top investigative research brought to you by the experts at Customer Review.