Enzymatic Therapy Petadolex Pro-Active Review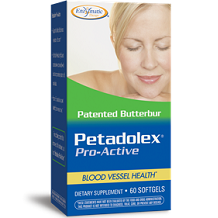 It is estimated that migraines are the sixth most disabling illness in the world with 90% of suffers unable to work or function normally during their migraine. With so many migraine treatments available on the market, those suffering from them don't have the time to waste on products that don't really work. This Enzymatic Therapy Petadolex Pro-Active review is going to take a closer look at the facts and details to learn more about how this migraine treatment works and to see if it's worth trying out. The manufacturer claims that their pure butterbur extract has been shown to support healthy blood vessel tone in your head which can prevent migraines from occurring.
Ingredients
The only active ingredient in this product is Butterbur that is standardized to contain 7.5 mg petasins. Every serving has 50 mg. Other ingredients include medium chain triglycerides, gelatin, glycerin, sorbitol, purified water and riboflavin color. Butterbur comes from the Butterbur plant which is a perennial shrub that is native to Europe. It contains petasin and isopetasin which work to reduce spasm and reduce inflammations and are thought to help prevent and reduce migraine headaches.
Dosage
The manufacturer recommends taking one softgel three times daily. You should discontinue use and consult a healthcare professional if you have a liver disorder or develop symptoms of liver trouble like abdominal pain, dark urine or jaundice.
Talk to your doctor before taking this product if you are pregnant, nursing or have a known medical condition.
Possible Side Effects
Although the manufacturer does not list any possible side effects we found several associated with Butterbur including headache, diarrhea, upset stomach and fatigue.
Price
You can purchase Petadolex Pro-Active directly from the manufacturer and from third-party retailers. One 60-softgel bottle costs $52.99 on the manufacturer's website. They do not offer any discounted bulk purchasing packages.
Guarantee
The manufacturer offers a 60-day money-back return policy but their policy only applies to unopened and unused products.
Conclusion of Our Enzymatic Therapy Petadolex Pro-Active Review
Enzymatic Therapy Petadolex Pro-Active appears to be a promising migraine treatment. Its active ingredient, Butterbur, has been shown to have the ability to reduce inflammation to help prevent migraines and this product is backed by a manufacturer's guarantee which is always reassuring when looking into a product. However, while the manufacturer does offer a money back guarantee, their policy is weak and limited. Their return policy only applies to products that are sealed and unused which means that if you purchase Petadolex Pro-Active, try it and are dissatisfied in any way, you cannot get your money back from the manufacturer. Furthermore, the price per bottle is expensive relative to other migraine treatments we have seen on the market but the manufacturer does not offer any discounted bulk purchasing packages to make it easier to afford to regularly take this product. With so many migraine treatments available on the market, you are better off choosing one that is backed by a strong manufacturer's guarantee for consumer protection and one that offers affordable purchasing options.
Top investigative research brought to you by the experts at Customer Review.