Mycratine Migraine Relief Review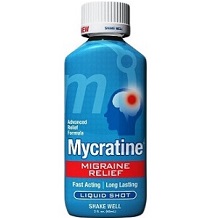 Mycratine Migraine Relief is the theme of our product review today. The manufacturer claims that their product can provide relief from and frequency of migraines. The product is intended for only adults and is a homeopathic formula.
Ingredients
L-Tryptophan
L-Phenylalanine
Caffeine
Other ingredients:
Purified Water
Gum Acacia
Lemon Oil
Brominated Vegetable Oil
Ester Gum
Dosage
The manufacturer recommends that you shake the bottle well, then drink one bottle at first indication of a migraine. Then, you should wait 5 to 15 minutes. In extreme cases, you may have to consume the second bottle 15 minutes after the first bottle.
Possible Side Effects
No specific side effects are mentioned on the company website, but as always, consult with your healthcare provider before beginning use.
Price
You can buy the product from Amazon for $25.50 plus shipping. This gets you a 2-ounce bottle. The manufacturer does not offer new customer incentives nor bulk buying discounts.
Guarantee
This product is not covered by a money-back guarantee or return policy. Third party sites like Amazon might have their own guarantee policies.
Conclusion of Our Mycratine Migraine Relief Review
We had a hard time finding positive aspects to this formula. If you are a believer in homeopathic products you might want to try this one since it contains homeopathic ingredients. The main bulk of our conclusion will now cover the not so positive aspects of this product. Firstly, in terms of ingredients, we are highly skeptical that homeopathy has any scientific validity to it and is unlikely to provide a cure to your migraine problems. One of the ingredients in this product is caffeine which concerned us because of the potential effects it can have on sleep. To our dismay, there were no warnings about caffeine intake on the product label or on the company website. The manufacturer does not offer new customer incentives nor bulk buying discounts. The product is costly to purchase and seems to be designed to be used as a one time use only supplement. You have to rely on third party sellers to purchase this product because the manufacturer does not sell it directly, nor does it inform what the shipping costs are. The company website also lacks an explanation of how the ingredients work, what the potential side effects are, or if there are any warnings. There is no assurance from the manufacturer that the product is made in an FDA certified facility, that its ingredients are non GMO, or that it is free from fillers, binders and artificial ingredients. There is no mention of a guarantee or return policy offered by the manufacturer. In looking at reviews on Amazon, we saw that there are numerous reviewers who stated that the product offered next to no benefits whatsoever in treating their migraines. For all these reasons we are unable to recommend this product as a migraine supplement. We suggest that you stick with tried and tested ingredients, and a product that has a strong guarantee and return policy, with bulk buying discounts, and a competitive price.
Top investigative research brought to you by the experts at Customer Review.