Designs for Health Migranol Review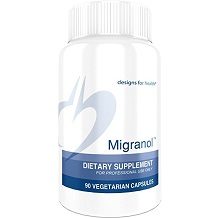 Statistics show that 91% of migraine suffers have to skip work or cannot function normally during a migraine. With statistics like these, anybody suffering from migraines does not have the time to waste on treatments that don't really work. This Designs for Health Migranol Review is going to take a closer look at the facts and information to learn more about how this migraine treatment supplement works and to see if it's worth trying out for effective results. The manufacturer claims that their supplement will support a healthy anti-inflammatory response and muscle relaxation.
Ingredients
Riboflavin (Vitamin B-2) – 150 mg
Magnesium (as Di-Magnesium Malate) – 180 mg
Feverfew (Tanacetum parthenium)(aerial) – 300 mg
Rosemary Extract ( rosmarinus officinalis) (leaf) [standardized to contain 7% carnosic acid] – 75 mg
Curcumin C3 Complex (containing three curcuminoids: curcumin, bisemthoxycurcumin, demethoxycurcumin) [standardized to contain 95% curcuminoids] – 75 mg
Other Ingredients: Celulose (capsule), microcrystalline cellulose, vegetable stearate, silicon dioxide.
Studies have shown that those experiencing a migraine usually have low levels of Magnesium during an attack. Magnesium is needed for proper brain function and it is believed that a Magnesium deficiency can be related to migraines. Feverfew leaves have many different chemicals including parthenolide which is a chemical that can decrease factors in the body that can cause migraine headaches. Rosemary Extract is commonly used as a way to reduce pain. Studies have shown that curcumin C3 can be stronger than aspirin and ibuprofen as an anti-inflammatory. It is also believed to work as a way to prevent stress which can cause migraines.
Dosage
The manufacturer recommends taking three capsules daily or following your doctor's instructions.
If you are pregnant, nursing or have a medical condition, you should talk to your doctor before taking this supplement.
Possible Side Effects
Although the manufacturer does not list any possible side effects we found several side effects to be associated with Migranol including stomach pain, anxiety, chest pain, dizziness, headache and swelling.
Price
You can purchase this Migranol directly from the manufacturer and from third-party retailers. One 90-capsule bottle costs $24.00 on the manufacturer's website. They do not offer any discounted bulk purchasing packages.
Guarantee
We were unable to find any mention of a manufacturer's guarantee and it appears that they do not offer one.
Conclusion – Designs for Health Migranol
Migranol appears to be a promising migraine treatment. Its primary ingredients have been shown to contain properties that can relax muscles and reduce pain and this product comes in easy to take capsules for convenience. However, Migranol is not backed by a manufacturer's guarantee which means that if you purchase this product and are dissatisfied in any way, you cannot get your money back from the manufacturer. Furthermore, while every person can have have varied results from a product, we found most of the consumer feedback to be negative. Consumers reported that this product has no effect on their migraine pain and that this product does not work. With so many migraine treatments available on the market, you are better off choosing one that is backed by a strong manufacturer's guarantee for consumer protection and one that has been shown to be effective.
Top investigative research brought to you by the experts at Customer Review.