Holland & Barrett Feverfew Migraine Relief Review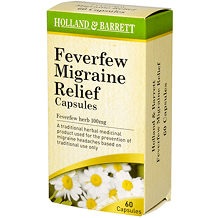 Migraines are one of the leading causes for missed work and it is estimated that more than two million Americans will regularly miss days of work due to chronic migraines. The market is full of various migraine treatments that promise to offer real relief and it can be hard to know which to trust for effective results. This Holland & Barrett Feverfew Migraine Relief review is going to take a closer look at the facts and details to learn more about how this migraine treatment works and to see if it's worth trying out. The manufacturer claims that their herbal medicinal migraine treatment is effective in the prevention of migraine headaches.
Ingredients
The only primary ingredient in this supplement is Feverfew Dry Herb. Every serving has 100 mg and contains white dextrin, colloidal anhydrous silica, talc, magnesium stearate, hypromellose, titanium dioxide. Feverfew contains a chemical called parthenolide that has anti-inflammatory effects and is believed to decrease factors in your body that can cause migraine headaches.
Dosage
The manufacturer recommends taking one capsule daily at the same time of day. You should swallow the capsule with water or liquid. The capsules are not meant to be chewed. Full results can be expected to be seen within three months of continual use.
Migraine Relief is not intended for children under the age of eighteen. If your symptoms worsen or do not improve after eight weeks, you should talk to your doctor. Talk to your doctor before taking this supplement if you are pregnant, nursing or have a known medical condition.
Possible Side Effects
Possible side effects include heartburn, constipation, diarrhea, fast heart rate, high blood pressure, arthritis, changes in blood or liver function or kidney problems.
Price
You can purchase this product directly from the manufacturer. One 30-capsule bottle costs $10.56. They do not offer any discounted bulk purchasing packages.
Manufacturer's Guarantee
The manufacturer offers a thirty-day money back guarantee.
Conclusion of Our Holland & Barrett Feverfew Migraine Relief Review
Holland & Barrett Feverfew Migraine Relief appears to be a promising migraine relief treatment. Its primary ingredient, Feverfew, has been shown to have anti-inflammatory properties that can help relieve migraines and this product is backed by a manufacturer's guarantee which is always reassuring to see when looking into a product. However, while the manufacturer does offer a guarantee, their policy is weak and limited. They only offer thirty days to get a refund which is not a fair amount of time to determine whether or not a product is working for you. Furthermore, the price per bottle is relatively cheap but we have often found that a cheap price indicates a cheap product. This idea is supported by the consumer feedback we saw that reported that this product does not work. Consumers reported that after continuously taking this product, they did not notice that it offered any relief from their migraine symptoms. With so many migraine treatments available on the market, you are better off choosing one that is backed by a strong manufacturer's guarantee for consumer protection and one that has been shown to be effective.
Top investigative research brought to you by the experts at Customer Review.