Xenna NonyX Nail Gel Review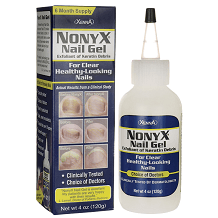 Xenna NonyX Nail Gel is a liquid-based treatment that clears up nail discoloration that is caused by the build-up of keratin debris. This Nonyx Nail Gel review provides all the necessary information customers need to determine whether this product is worth consideration.
Ingredients
Xenna NonyX Nail Gel contains four ingredients:
Deionized Water
Ethanoic Acid
Fragrance
The manufacturer's website does not distinguish between active and inactive ingredients. However, fragrance is most likely an inactive ingredient. Ethanoic Acid is the main ingredient and it is used to get rid of keratin debris that has built up under the nails. This causes the nail to become clear-looking and healthy again.
Dosage
Xenna NonyX Nail Gel does not have a set dosage. Instead, individuals should apply one to two drops, twice a day, of NonyX Nail Gel to discolored nails. Then, using the applicator tip, spread the gel across the nail's surface. If needed, the gel can be squeezed underneath the nail's tip.
It is recommended that Nonyx Nail Gel be applied after washing the affected area. Individuals can also take an emery board to roughen the flat surface of the nails, as this allows better gel adhesion. In order to see results, Nonyx Nail Gel should be used for a minimum of three to four weeks. Individuals can continue to use this product even after the discoloration has cleared up in order to prevent future keratin debris build-up.
Results will depend on how fast an individual's nail grows. It can take up to a year for NonyX Nail Gel to get rid of discoloration completely.
Possible Side Effects
There are no known side effects associated with Xenna NonyX Nail Gel. The manufacturer even boasts that this product is safe for diabetics. However, the manufacturer does list the following warnings:
This product is for external use only. If it comes in contact with the eyes, flush them out with cool water.
This product should not be used on children under 5-years-old.
Keep out of reach of children.
Price
The manufacturer offers a 4 oz. bottle, which is a six-month supply, for $24.99. Customers can also purchase a travel size bottle, 5 oz., for $2.95. Both orders include free shipping. Xenna NonyX Nail Gel can also be found in most major stores, such as Walmart and Walgreens, and can be purchased on third-party websites such as Amazon.
Guarantee
The manufacturer has a money-back guarantee. Customers who are unsatisfied can return their unused portion to receive a refund. Customers must include their receipt, their name and address, and the reason for the return to receive a refund. Customers will then be sent a check. However, it is unclear whether this guarantee has a time limit.
Conclusion of Our Xenna NonyX Nail Gel Review
Xenna NonyX Nail Gel seems to be a good product for getting rid of nail discoloration. This product has many customer reviews, the majority of them being positive. This product does not cause any side effects; however, results can sometimes take a long time to appear. NonyX Nail Gel is priced well and the manufacturer has a money-back guarantee. However, the manufacturer does not clarify if customers must return a product within a certain time limit in order to qualify for a refund.
Top investigative research brought to you by the experts at Customer Review.