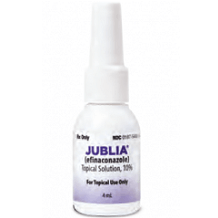 Toenail fungus is certainly something that can cause misery in your everyday life. Sometimes, when it has become too much, you might be prescribed an anti-fungal, such as Jublia, by your doctor. We wrote this review of Jublia to determine if it is a good solution for you, as opposed to something else.
Ingredients
The only active ingredient found in Jublia is Efinaconazole Topical Solution 10%. This is an antifungal of the triazole variety. It comes in a 10% solution so that it can safely and effectively treat the average nail fungus that people get. The other ingredients found in this product are:
Alcohol
Anhydrous Citric Acid
Butylated Hydroxytoluene
Alkyl Lactate
Cyclomethicone
Diisopropyl Adipate
Disodium Edetate
Purified Water
These are all inactive ingredients that aren't used to actively treat nail fungus.
Dosage
Before beginning to apply Jublia, you should clean and dry your toenails. Do so using basic soap and water, and then towel dry gently. Afterward, remove the cap from the bottle containing the medication. Holding the bottle upside down, ensure that it is positioned directly over the affected toenail. This is to make sure that the brush is thoroughly saturated. Apply just one drop onto the toenail. When applying, do not squeeze the bottle, press the brush against the toenail roughly, or rub the brush firmly against the nail. If your big toe has the nail that is affected, then use two drops and brush the solution to the end of the nail. You may need to re-wet the brush before the second application. Then, brush the solution over the entire nail, spreading out to the cuticle, the skin beside the nail, and underneath the nail. Repeat on every affected toenail, then allow to completely dry. This should be done once daily for 48 weeks. Establishing a routine might help.
Possible Side Effects
There are a few common side effects that you might experience with this medication. These include ingrown toenails, redness, itching, swelling, burning or stinging, blisters, and pain. You may also experience irritation at the application site. You should tell your doctor if you experience these side effects. You should also tell your doctor if you are currently experiencing other medical conditions. Jublia may not be safe for nursing or pregnant women, and might not be effective in children.
Price
Because this is a prescription medication, the price for this product will vary greatly, depending on your pharmacy, health plan, and other factors. There are money-saving options your doctor may suggest, however. If you are uninsured, this product will cost between $125-$200.
Guarantee
This prescription medication, like many others, comes with no actual guarantee about whether or not it will work. It is also highly unlikely that you will receive a reimbursement if it doesn't.
Conclusion of Our Jublia Review
Our review of Jublia, a prescription anti-fungal used specifically for toenail fungus, has shown positives and negatives. The active ingredient seems to work, and the dosage is very thorough. However, as a prescription medication, there are quite a few things that might be problematic. One is the lack of a guarantee, another is the price range, which is impossible to determine with certainty. It might be worth looking into more natural, safer, non-prescription options.
Top investigative research brought to you by the experts at Customer Review.