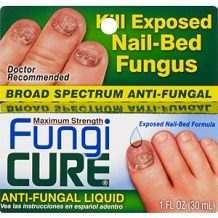 This review is for a product called FungiCure Anti-Fungal Liquid. FungiCure Anti-Fungal Liquid is a liquid-based product that claims to fight six different fungi infections, including athlete's foot and ringworm. This product also relieves uncomfortable fungi infection symptoms, such as itching, cracking, and burning.
Ingredients
FungiCure Anti-Fungal Liquid only contains one active ingredient: undecylenic acid. Undecylenic acid is used to treat a number of fungal infections. Typically, undecylenic acid is concentrated between 10 and 20%. FungiCure Anti-Fungal Liquid uses a concentration of 25%. FungiCure Anti-Fungal Liquid helps to stop and slow the growth of fungus, while also relieving uncomfortable symptoms, such as itching, cracking, burning, redness, and soreness.
Inactive ingredients include:
Dosage
Before using this product, individuals should clean the affected area with stop and warm water. There is no specific amount that should be applied to the affected area. Instead, individuals should just apply a thin layer of FungiCure over the affected area twice a day, unless directed otherwise by a doctor.
Do not use this product on the scalp. Individuals who are using FungiCure to treat athlete's foot or ringworm should use this product for about four weeks.
Possible Side Effects
FungiCure Anti-Fungal Liquid can cause skin irritations, especially for those with sensitive skin. The high concentration of undecylenic acid may make this product more likely to cause skin irritation than other products. FungiCure lists the following warnings on its label:
This product is for external use only.
Do not use this product on children under 2-years-old.
Stop using this product if skin irritation occurs.
Consult a doctor if this product does not produce results within 4 weeks.
If swallowed, contact a poison control center.
Price
The price of FungiCure Anti-Fungal Liquid varies depending on where it is purchased from. This product is widely available online. This product can be purchased on Amazon from a variety of sellers, but prices range from $5 to $10. Walmart offers a 1 oz. tube for $8.48. Walgreens offers a 1 oz. tube for $11.99.
Guarantee
There does not seem to be a website about FungiCure Anti-Fungal Liquid that is hosted by the manufacturer. Therefore, we have not found any indication that this product comes with a money-back guarantee. Some stores and websites may offer refund policies, but customers will have to make inquires about refunds from the place they purchase this product from. Most likely refunds will not be provided for customers that are just unhappy with the results.
Conclusion of Our FungiCure Anti-Fungal Liquid Review
FungiCure Anti-Fungal Liquid seems to be a decent product for curing different fungal infections. This product has a decent amount of customer reviews. The majority of reviews are positive, commenting that this product worked; although it did take a few months to see results. However, the fact that there is no website hosted by the manufacturer is slightly disheartening, as there are no consistent prices for this product. Some companies offer this product for as low as $5, while other companies sell this product for twice that amount. There is no money-back guarantee for this product, meaning customers will not receive refunds for unsatisfactory results.
Top investigative research brought to you by the experts at Customer Review.