The Original Fungi-Nail Review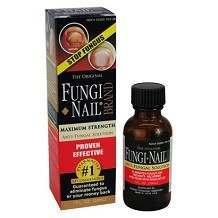 If you suffer from nail fungus, you already know how irritating it is and how hard it is to treat. That's why, when searching for a treatment, you should only buy the absolute best. That's why we have written this Fungi-Nail review: As a very popular natural solution, you should know if it is the best option for you. Fungi-Nail distinguishes itself with what it calls its ClearGuard Moisture Block Technology, a unique formula creates a clear, water resistant barrier to keep the active ingredients focused on the affected area.
Ingredients
The only active ingredient in Fungi-Nail is Undeyclenic Acid 25%. This is an ingredient normally found in natural nail fungus remedies. It is a fatty acid that is very helpful in the treatment of fungal infections, which also helps to prevent them in the first place. The second ingredient, Isopropyl Palmitate, isn't an active ingredient. It serves primarily as a thickening agent, making the product easier to apply.
Dosage
Because there are two different types of applicators to choose from (either a standard brush applicator, which is found in the economy size, or a pen brush applicator), you'll have one of two sets of directions that you'll need to follow to get the appropriate dosage. If you are using the standard brush applicator, you will need to clean the affected area with soap and water, then dry well. Once that is done, you should cut your nails straight across, then proceed to file them until the tips are just slightly rounded. Afterwards, use the brush to apply the solution under the nails and around the cuticles. Repeat twice daily. If you are using the pen brush applicator, your first two steps remain the same. However, once you've filed your nails, you will need to remove the pen's cap, point the brush downward, and then saturate the brush by twisting the base until you hear a click. Apply as with the other brush: Under the nail, around the cuticle, and repeat twice per day. It may take up to four weeks to see noticeable results.
Possible Side Effects
There appear to be no side effects associated with this product. However, it does say to discontinue use until you speak with a medical professional if you either experience irritation after using the product, or if you experience no improvement within four weeks. This medication is not to be used in children under two years of age, and should be kept out of reach of children.
Price
The average price for a bottle of Fungi-Nail, which contains one ounce of the product, is $7.99. There are ways to save money on this purchase, however. As of the time of our review there was a promotion where you could get that same bottle for $7.59. You can also get an extra 15% off by subscribing to receive the product monthly.
Guarantee
If you are not satisfied with this product, you can receive your money back if you mail in a copy of your receipt along with proof of purchase. You can also peel off the wrapper and send it in, instead. Without the receipt you will receive the current Walmart price of Fungi-Nail.
Conclusion of Our Fungi-Nail Review
This review of Fungi-Nail has shown that there are certainly good points for this product. The one active ingredient has been known to be effective, and there is a money-back guarantee available. However, the dosage is somewhat complicated, and requires a lengthy, twice-a-day process. Amazon customer reviews are also very concerning with a very low (for this category) 52% positive rating and a very high 33% negative rating.
Top investigative research brought to you by the experts at Customer Review.