Premium Certified FungiMD Review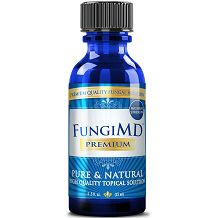 This review of FungiMD aims to outline detailed information about this product, its ability to effectively combat nail fungus, and whether you should consider purchasing it. The manufacturer of this product claims that it penetrates deep into the roots of the nail bed to fight fungus and heal the surrounding area. They state that this all-natural product contains optimal concentrations of key active ingredients known for their nail healing properties.
Ingredients
Undecylenic Acid
Mineral Oil
Sweet Almond Oil
Flaxseed Oil
Tea Tree Oil
Aloe Vera Leaf Extract
Canola Oil
Manuka Oil
Tocopheryl Acetate
Clove Bud Oil
Jojoba Oil
Black Walnut Oil
Menthol
Camphor Oil
Chia Oil
Lemongrass Oil
Lavender Oil
This impressive list of natural ingredients forms part of a nutrient-rich formula that is clinically-proven to reduce the impact and spread of nail fungus. The key active ingredient, Undecylenic Acid, is a powerful antifungal ingredient that is known to reduce itching, burning, and skin irritation associated with nail fungus. The potent blend of various oils, such as Jojoba and Lemongrass, provide anti-inflammatory and antimicrobial properties respectively. These oils offer additional benefits for the skin surrounding the nail. The other ingredients provide a variety of vitamins and minerals that support the benefits of the primary ingredients. The formulation of this product follows strict cGMP guidelines to ensure that each product is of an exceptionally high quality. Furthermore, these ingredients comply with the US Pharmacopeia standards of purity and quality.
Dosage
The manufacturer provides ample information on how to use this product optimally. The product should be applied to the affected area two (2) to three (3) times daily, using the applicator brush. This should be done after showering, before putting on socks and shoes, and before going to sleep. Each application provides a potency of 25% of Undecylenic Acid which is the maximum strength required to effectively combat nail fungus. The product should be left to absorb for half an hour before covering the area. An emery board should be used once a week to roughen the nail for easier absorption. Nail clippers and other equipment should be disinfected after using them on the affected area. Nail protein and cuticle cream should be applied to the nails once they have healed to protect them against future infection.
Possible Side Effects
The manufacturer prides themselves in using 100% natural ingredients and the formula does not contain any preservatives, additives, or artificial ingredients. Therefore, they state that there are no reported negative side effects.
Price
The product can be purchased online from FungiMD. A one (1) month supply will cost $48, however, there are several bulk-buy deals that encourage long-term use of this product. These deals make prolonged use cost-effective, with the most popular 'Buy 3 Get 3 Free' deal saving you $270. This substantial saving reduces the total cost of six (6) bottles to $138. Online purchases are supported by a Norton Shopping Guarantee which protects you from ID theft.
Guarantee
The effectiveness of this product is supported by a 90-day money-back guarantee. Products that have been opened are eligible for a full refund which suggests that the manufacturer is confident in the product's ability to deliver on claims.
Conclusion of Our FungiMD Review
There are a number of positive selling points about this product. For one, it contains high doses of several powerful fungal fighting ingredients. Furthermore, the effectiveness is supported by a lengthy guarantee. Finally, the major discounts on bulk-buy deals mean that long-term use of this product is inexpensive. It is for these reasons that we highly recommend this product as an effective remedy and preventative ointment for nail fungus infections.
Top investigative research brought to you by the experts at Customer Review.