BioSynergy Omega-3 Fish Oil Review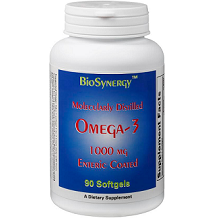 The following is our review of BioSynergy Omega-3 Fish Oil. This product is softgel that has a special enteric coating which protects the capsule from dissolving in your stomach and instead releases a powerful Molecularly Distilled Omega 3 Fish Oil in the intestines. This allows you, the consumer, to reap the benefits of this product without tasting the fish oil. This product is made from the highest quality raw materials with guaranteed potency. This product is always screened for an absence of potentially harmful levels of contaminants, such as mercury, heavy metals, PCB's, dioxins, and other contaminants. Continue reading for our full review.
Ingredients
Natural Fish Oil Concentrate – 1.0 g
Omega-3 Fatty ACids – 750- mg
Eicosapentaenoic Acid (EPA) – 180 mg
Docosahexaenoic Acid (DHA) – 120 mg
Other ingredients include: Gelatin, glycerin, and water (Capsule).
This product contains sardines, anchovies, mackerel, and soy derivatives. It contains no sugar, salt, starch, yeast, wheat, gluten, corn, milk, egg, shellfish, or preservatives.
Omega-3 fish oil has a ton of benefits. It may suppress production of fat cells, provide a healthy, stable mood, boost children's intelligence, and promote healthy respiration and breathing. It may also even be able to promote and maintain healthy brain function, blood pressure, inflammation response, and glucose levels.
Dosage
It is recommended to take this product as a dietary supplement. You can take 1-4 softgels daily with meals. The manufacturer recommends taking this product in combination with their other products.
Possible Side Effects
There are no clinically proven side effects of using this product, when used appropriately. If you are taking any prescribed drugs from your physician, please check the drug interactions before taking this nutritional supplement.
Price
BioSynergy Omega-3 Fish Oil is currently on sale for $16.47 and is usually sold for $26.98. It comes in a bottle of 90 softgels. This product will last you 3 weeks – 3 months depending on how many softgels you take a day. This product is pretty affordable either way.
Guarantee
This product is backed by a 30-day money-back guarantee. If you are not satisfied with this product for any reason, you just need to return the unused portion within 30 days of purchase for a full refund. No questions asked. This is a very strong guarantee, since it actually allows the customer to try the product and still be able to return it for a full refund. It shows the manufacturer has a lot of confidence in their product's effectiveness.
Conclusion of Our BioSynergy Omega-3 Fish Oil Review
There are a couple of positive things about BioSynergy Omega-3 Fish Oil. It is a pretty affordable product and even more affordable if you can get it to last you 3 months. It is also backed by a very strong guarantee allowing you to return the product even after you tried it. It shows the manufacturer has a lot of confidence in their product's effectiveness. It also gives you, the customer confidence as well and a risk-free buying experience. There were a couple of negatives as well. There were only 2 reviews on their website, and they were obviously positive, but we are surprised there aren't more since it seems pretty easy to leave a review. We also weren't able to find customer reviews for this product anywhere else, which makes us wonder if many people actually use this product. We feel you can find a better product elsewhere.
Top investigative research brought to you by the experts at Customer Review.