EcoOmega Lane Labs Review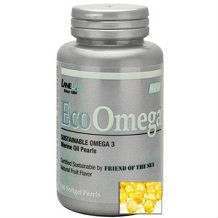 EcoOmega by Lane Labs is an omega 3 fish oil supplement that claims to be eco-friendly, effectual and risk free. Omega 3 essential fatty acids are widely popular because of their numerous health benefits. The essential fatty acids, such as docosahexaenoic acid (DHA) and eicosapentaenoic acid (EPA), build up the strength of various organs in the body including heart, eye, brain, testicles, digestive tract, skin and lungs.
Lane Labs' EcoOmega is an eco-friendly product which makes it stand out from the rest of the supplements. It is derived from calamari oil and has been certified as sustainable by the non-profit organization called Friend of the Sea. It does not have any lead and mercury content and its taste is non-fishy. The gelatin capsules are easy to sallow. As they are made from vegetable oil, refrigeration is not required. The bottle of EcoOmega by Lane Labs is silvery grey with black and white labels.
Unlike other fish oil supplements, EcoOmega has more DHA than EPA which makes it even more beneficial for males. Females can naturally produce more EPA and DHA than males do. Men, on the other hand, may have to depend upon the supplements for optimum DHA levels in the body. DHA is a structural component of testicles and sperm among other organs and tissues.
Ingredients
EcoOmega Lane Labs has the following ingredients:
Eicosapentaenoic Acid (EPA) – 125 mg
Docosahexaenoic Acid (DHA) – 250 mg
Additional Omega 3 Essential Fatty Acids – 50 mg
Natural Berry and Orange Flavor
Proprietary blend of anti-oxidants
Eicosapentaenoic acid (EPA) and docosahexaenoic acid (DHA) protect against various inflammatory diseases (such as Crohn's disease, arthritis, muscle pain, asthma, psoriasis), protect the vision of eye by preventing degeneration of retina, reduce the chances of developing mood disorders (depression, bipolar disorder), mental issues (schizophrenia), cerebrovascular diseases (dementia, stroke and Alzheimer's disease) and cardiovascular diseases (hypertension and coronary artery disease). Intake of supplement may also help cancer patients by improving their response to chemotherapy and having a cytotoxic effect on cancerous cells. In pregnant women, EPA and DHA can avert miscarriages.
Dosage
Swallow or chew 3 to 5 soft gel pearls daily at mealtime. It has a pleasant taste so you can take it with your meals.
Side Effects
There are very few side effects associated with the product such as dizziness, nausea, diarrhea, headache, stomach ache and bloating. The supplement must be kept away from kids. Do not take more than the recommended dose.
Price
Each bottle of EcoOmega by Lane Labs is for $24.95. A bottle contains 30 servings.
Guarantee
Lane Labs, the manufacturer of EcoOmega, does not offer a refund policy or a free trial period.
Conclusion – Lane Labs EcoOmega Review
EcoOmega by Lane Labs is a very affordable product made from excellent quality ingredients. As it does not have any fish oil, people allergic to sea food can safely take EcoOmega. However, vegetable oil is not as beneficial for the health of the body as the fish oil is.
Top investigative research brought to you by the experts at Customer Review.