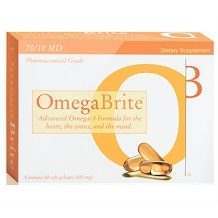 This OmegaBrite gelcaps review aims to study the contents and efficacy of this dietary supplement. The manufacturer claims that this supplement can support better cardiovascular health, cognitive function, as well as joint and emotional health. Is there any truth to this? Read on to find out.
Ingredients
EPA – 1,050mg
DHA – 150mg
Other omega-3 fatty acids – 150mg
Omega 6 fatty acids – 60mg
Other fatty acids – 85mg
Other ingredients in this formula include kosher gelatin, kosher glycerin, vitamin E and rosemary extract. This omega-3 essential fatty acid contains both EPA and DHA which are needed by the body to support cognitive, cardio, joint, and emotional health. It follows its own special formulation with EPA being at 70% higher than other supplements on the market. This unique blend promotes anti-inflammation to reduce your risk of health problems while at the same time improve your overall well-being.
Dosage
According to our research, the best way to get the most out of this omega-3 supplement is to take three capsules per day. If you're going to use this as part of your diet, take one capsule three times per day and preferably with a meal. This means that you are getting a sufficient amount of omega-3s based on the dosage for each capsule.
Possible Side Effects
From the information that we have gathered so far, there are no known side effects associated with OmegaBrite gelcaps. This is probably due to the fact that this is a food supplement and only contains pure omega-3 essential fatty acids. It is recommended that you consult your doctor first if you are pregnant or are taking other medications to ensure that there are no harmful effects when taking this supplement.
Price
The current price of OmegaBrite is $35.99 when you buy online from the manufacturer's website. You can get a 10% discount if you choose the auto-refill option upon ordering, however, make sure this is easy to cancel before you sign up.
Guarantee
In terms of guarantee for this omega-3 supplement, OmegaBrite offers a 30-day money back guarantee. This means that if you are not satisfied with the effects of this supplement, you will need to ship the product back to the manufacturer within 30 days from the date of purchase to get a refund minus shipping and tax. There is no indication what condition the bottles need to be in to claim a refund.
Conclusion of Our OmegaBrite Review
After our extensive research for our OmegaBrite gelcaps review, we believe that this product has some merits to it. For starters, this supplement contains a healthy dose of omega-3 essential fatty acids that has both EPA and DHA at the right dosages. Also, it has other essential fatty acids that are known to promote healthy cardiovascular health, better brain function, regulate mood swings, as well as promote better emotional well-being.
However, our concern with this product is that it doesn't have a sufficient money-back guarantee. A month to test the supplement may not be enough to determine if there are any results. Also, the discount is only available to those who will sign up for the auto-refill program. The price may be a bit expensive for some which is also something to be concerned with and the lack of discounts makes it more expensive in the long run if you don't want to put your trust into their auto-ship program.
Top investigative research brought to you by the experts at Customer Review.