Kirkland Signature Fish Oil Review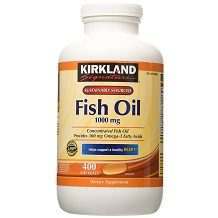 Our review of Kirkland Signature Fish Oil aims to provide you with relevant information regarding this omega-3 supplement. Kirkland has been in the industry for more than two decades producing supplements that are made from carefully chosen ingredients. Kirkland promises that its fish oil product can help support cardiovascular health and improve healthy and flexible cell membranes and that it is sourced from deep water ocean fish. Can this supplement be the one to satisfy your omega-3 needs? Read on to find out more.
Ingredients
Fish Oil Concentrate – 1000mg per softgel, of which

EPA+DHA – 250 mg
Other Omega-3s – 50 mg

Soy
Glycerin
Water
Tocopherol
The key ingredient of this supplement is its fish oil concentrate which contains EPA and DHA at 250mg with other omega-3 fatty acids. The fish used for this product are sardines and anchovy sourced from Peruvian waters.
Dosage
The recommended dosage is two softgel capsules per day, one with breakfast and the other with lunch. Both should be taken with a full glass of water. Total quantity of fish oil is 600 mg per day, of which 500 is a combination of EPA and DHA.
Possible Side Effects
There are no known side effects linked to this fish oil supplement. However, if you are pregnant, breastfeeding, below 18 years of age or are taking any other medications, make sure that you consult with your doctor before taking this supplement.
Price
At the time we researched this review, you could buy a 400-softgel bottle of Kirkland Signature Fish Oil from Costco for $11.49, including shipping and handling. There were some online retailers selling a bottle for about $5 but but shipping and handling were extra.
Guarantee
Kirkland Signature guarantees that its products are made from the best ingredients. If you are not satisfied with the results of the fish oil supplement, you can return it any time to get a full refund by returning it to any Costco warehouse.
Conclusion of Our Kirkland Signature Fish Oil Review
After thoroughly researching information for our Kirkland Signature Fish Oil review, we have come to the conclusion that this fish oil supplement is worth taking into consideration. What we like about this product is that it makes use of pure fish oil harvested Peruvian sardines and anchovies for omega-3 fatty acids which are then purified to get rid of any mercury. Both Amazon and Costco customer ratings are solidly positive and the the product is affordable. The money back guarantee from Costco also makes it an attractive buy.
However, if you are looking for a fish oil supplement that comes at a higher dosage, you should look at other options.
Top investigative research brought to you by the experts at Customer Review.