Nordic Naturals Omega-3 Review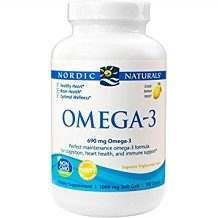 Nordic Naturals Omega-3 takes it place in a competitive market with claims that it supports proper cholesterol levels and helps maintain heart and brain health. These are fairly standard benefits claimed by many Omega-3 supplements. The manufacturer also says its formula provides the recommended "daily minimum" of EPA and DHA. Read on to get the details on this product from our Nordic Naturals Omega-3 review.
Ingredients
Primary ingredient (quantities per two softgels)
 Purified Deep Sea Fish Oil (Anchovies and Sardines)

EPA – 330 mg
DHA – 220 mg
Other  Omega-3s – 140 mg
Secondary Ingredients
Gelatin
Water
Glycerin
Natural Lemon Flavor
D-Alpha Tocopherol (Vitamin E)
Rosemary Extract (Natural Preservative)
This is a fairly standard Omega-3 Supplement ingredient list. Anchovies and sardines are respected sources.
The secondary ingredients are also typical of many Omega-3 supplements.  While most are neutral, we have some concern about the rosemary extract. In large doses, rosemary extract may cause vomiting, sun sensitivity and skin irritation. Consumers taking rosemary therapeutically may wish to avoid this product. Rosemary is chemically similar to aspirin and should be avoided by those with an allergy to acetylsalicylic acid. It is contraindicated for individuals with bleeding and seizure disorders as it may worsen these conditions.
Dosage
Nordic Naturals suggest taking two softgels daily, with food. Current research suggests 600mg DHA and 800mg EPA with 1500mg total Omega 3 fatty acids are necessary for the product to be both safe and effective. Based on these numbers we fear this product fails to provide the correct amount of Omega 3 fatty acids necessary for optimum heart and brain health.
Possible Side Effects
Nordic Naturals lists no specific side effects but suggests caution for those allergic to iodine or on blood thinners.  Some reviewers complained of skin irritation and stomach upset.
Price
Nordic Naturals offers its Omega-3 for $17.95 for 60 softgels.  It is also available from retailers at varying prices. For example, you could buy A 180-count bottle, at the time of this review, for $36.37.
Guarantee
We found no evidence of a manufacturer guarantee.  We believe that a strong guarantee shows confidence on the part of the producer.  Not having one does not necessarily indicate a poor product, but it is something we take into consideration when deciding among brands as good guarantees help mitigate risk.
Conclusion of Our Nordic Naturals Omega-3 Review 
Overall, Nordic Naturals Omega-3 looks like one of the better products in a crowded market. We like that its ingredient list is simple, with no artificial flavorings or colorants. And we found their Amazon customer ratings impressive with 92% positive and only 5% negative from nearly 1000 reviews, at the time of writing. And the pricing was very competitive (maybe almost too good).
There are, however, some negatives as well. Research indicates that the Omega-3 quantity in a daily serving of this product may simply be too low to be effective. So to reach beneficial levels, you would have to take more of the supplement, effectively raising the price per dose.  Also, using rosemary extract as a preservative may make this product dangerous for people with sensitivities, allergies, or pre-existing conditions. Finally, the lack of a manufacturer guarantee is, of course, far from ideal. Unfortunately, due to these considerations, we cannot unreservedly recommend this product.
Top investigative research brought to you by the experts at Customer Review.