Nugevity Omega Max Review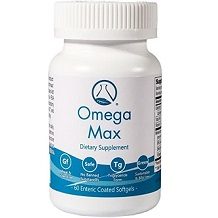 The following is our review of Nugevity Omega Max. It is a dietary supplement that was developed by flight surgeons under a Space Act Agreement. It has been researched and used by astronauts to help maintain triglyceride levels, and promote healthy eyesight and tear lubrication. It can also help fetal brain and nervous system development during pregnancy in addition to supporting the immune system and a healthy anti-inflammatory response. Continue reading for our full review.
Ingredients
Other ingredients include gelatin, purified water, glycerin, stearic acid, sodium alginate, phamaceutical glaze, acetylated monoglycerides, polysorbate 80, potassium sorbate, and vanillin.
These ingredients are meant to support the immune system and play a role in eye and joint lubrication. They also contribute as being vital component of cell membranes in the brain, eye, and heart. These ingredients are also extremely important for optimal fetal development.
Dosage
It is recommended to take at least 2 softgels daily, preferably at bedtime. If this product causes you an upset stomach, take it before a meal, or as recommended by a healthcare professional.
Possible Side Effects
You should keep this product out of the reach of children. Please speak with you healthcare professional before using this product if you take blood-thinning medication or are anticipating a surgery.
Price
Nugevity Omega Max can be bought in a bottle of 60 softgels for $30.00. You can also buy a pack of 3 bottles, each costing only $26.33. There is also an auto-refill program that provides a discounted price. You can get 1 bottle that ships every 28 days for $28.50 plus the cost of shipping. You can also get 1 bottle shipped to you every 3 months for the same price. There is also an option to get 3 bottles shipped to you every 3 months for $25.01 per bottle. Even with all these discounts offered, this product is still more on the expensive side compared to similar products on the market.
Guarantee
This product is backed by a 30-day money-back guarantee. If you are not satisfied with your purchase, you have 30 days from the order date to return it and get a full refund minus shipping, handling, and any service charges like gift-wrapping. You will need to contact them by phone or email to process your request. This guarantee doesn't specify the condition the product needs to be in in order to qualify for a full refund.
Conclusion of Our Nugevity Omega Max Review
There are a couple of positive things about Nugevity Omega Max. There were many hopeful and positive testimonials on the manufacturer's website. One customer said they have been taking this product for 10 years and when they run out, they notice a difference. There is also an auto-refill program which should make it easier for customers to receive more pills while saving time. There are a couple of negatives a well. The price of this product is more on the expensive side, especially for something you need to take every day. The guarantee for this product also seems great but it is unclear if the product can be returned if it has been opened or used, leaving us unsure if the guarantee is really that strong. We feel you can find a more affordable product elsewhere.
Top investigative research brought to you by the experts at Customer Review.