Dr. Murray's Online Prostate Health Formula Review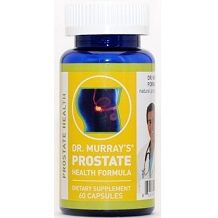 Today we review Dr. Murray's Online Prostate Health Formula. As men age, their prostate will naturally enlarge, which can compromise the urinary system. This supplement will help your prostate safely return to the normal size so you can have a normal life again.
Ingredients
Vitamin C
Magnesium
Zinc
Selenium
Nettle Root
B-Sitosterol
Lycopene
Pygeum
While these ingredients are important in helping your prostate's overall health, there is half as many nutrients in this supplement when compared to other similar products.  These missing ingredients could seriously lessen the effectiveness of these capsules.
Dosage
This supplement should be taken twice per day. For regular results, you should take only one capsule per dose, but if you want enhanced results, you can take up to two pills, twice per day.
Possible Side Effects
There are no listed warnings or side effects for this supplement. This is actually a cause of concern, as even the safest supplements will offer a basic warning to consult with a doctor or healthcare physician before beginning a new dietary regimen. Without this warning, it shows the manufacturer is trying to hide something about their product.
Price
Each bottle contains 60 capsules and costs $29.95. If you take the normal dosing, this price is average for a supplement of this kind. However, if you take the higher dose to see better results, one bottle will only last you 15 days, in which this becomes a much more expensive product. Standard shipping is an additional flat rate of $5.99
The manufacturer does offer some discounts for their products. If you order more than $105, you will be eligible for free shipping. Also, if you subscribe to the company's auto-shipment program, you will also be offered free shipping in addition to a 10% discount on whatever you have shipped regularly. It is important to be weary of these types of programs as they are extremely difficult to cancel and they save your credit card information, making you susceptible to repeat purchases that you may not have wanted.
Guarantee
This manufacturer does have a guarantee listed on their website. They understand that everyone's body chemistry is different and suggest trying this supplement for two full weeks before deciding to return the product. Should, by the third week, you are still not seeing the effects of this product, you can return the rest of the product for a full refund, minus shipping and handling charges.
Conclusion of Our Dr. Murray's Online Prostate Health Formula Review
There are a few things we liked about Dr. Murray's Online Prostate Health Formula. The dosing is slightly more flexible, so you can take a higher dose if you feel that the typical dose is not helping you enough. Additionally, the manufacturer does off a return policy on their products.
We did, however, find many red flags in regards to this supplement. The ingredient list is missing almost half of the nutrients commonly seen in supplements to help your prostate health. Also, the lack of side effects or warnings listed shows us that the company may be trying to hide something. Lastly, if you take the higher dose, the price of this supplement is extremely high. For these reasons, we cannot recommend this supplement to help shrink your enlarged prostate.
Top investigative research brought to you by the experts at Customer Review.