Olympian Labs ProsPlex Review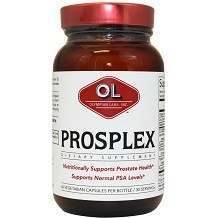 Coming to terms with a prostate problem is often an embarrassing fact for men. Prostate conditions typically reveal themselves as urinary problems or sexual inadequacies, which make it hard to talk about. If a man doesn't step up to the plate and address the issue at its onset, these minor issues will eventually turn into very serious conditions. Many of which can only be solved through injections, surgery or other intrusive procedures. Taking a supplement early, before there is a problem, can help avoid all of this. Prostate health supplements use blends of ingredients designed to soothe the urinary tract, improve urine flow, and improve overall prostate health by reducing the size of the prostate gland to a healthy level.
More than 50% men 60 years of age or older experience symptoms of an enlarged prostate. 90% of men over the age of 80 realize the same condition. This is because the prostate glands never stop growing in males. Typically, this leads to issues once in an advanced stage.
The good news is that products like Olympian Labs ProsPlex that can eliminate the symptoms of an England prostate and improve prostate health. You just need to find one that utilizes the right components that is best for you.
Ingredients
There are many prostate health supplements that use many different types of ingredients. Some medicines use herbal remedies or contain only all natural ingredients. Another popular treatment option is a product that contains homeopathic ingredients. The bottom line is that there are many available choices on the market. This product contains the following ingredients:
• Vitamin D – 200 IU
• Zinc – 5 mg
• Selenium – 100 mcg
• IP-6 – 200 mg
• Saw Palmetto Extract 40% – 160 mg
• Quercetin – 100 mg
• Tomato Lycopene – 60 mg
• Pygeum Extract 2.5% – 10 mg
• Pumpkin Seed – 5 mg
• Vegetarian Capsule
• Microcrystalline Cellulose
• Silicon Dioxide
• Rice Flower
• Ascorbyl Palmitate
Dosage
The manufacturer recommends taking two (2) capsules daily, on an empty stomach, with a full glass of water, or as directed by a healthcare professional.
Side Effects
No side effects could be identified for this product. As always, with any medication, supplement or treatment, consult your doctor before use.
The manufacturer cautions that if you are pregnant or nursing, have a medical condition, or are taking medications, consult your healthcare professional before using this product.
Price
Internet pricing may vary from website to website. At the time of writing this review this product was found at a price of $18.39 for a bottle of 60 capsules, which under the suggested use should last about one month.
Guarantee
Many people want a guarantee as an assurance that if they don't get the results that they are looking for, they will not be punished. Depending on where you buy this product, individual websites may off their own money-back guarantees.
When researching this product, a manufacturer money-back guarantee was not found.
Conclusion of Olympian Labs ProsPlex Review
There is no guarantee for this product and furthermore, it has no FDA clearance.
Top investigative research brought to you by the experts at Customer Review.