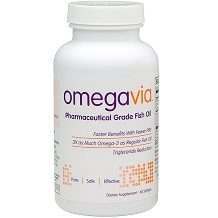 Our OmegaVia fish oil review will help you determine if this product meets your requirements for an omega-3 fatty acids supplement. According to the manufacturer, this product has three times more omega-3 than other fish oil products, and it helps protect your heart, minimize joint pain, enhance your mood, boost cognitive function, regulate cholesterol and triglyceride levels, improve eyesight and other health benefits. Is there any truth to these claims? Read on to learn what this supplement can provide you with.
Ingredients
Pharmaceutical grade omega-3 oil (85%) from anchovy, mackerel and sardine with total omega-3 content of 1105 mg per softgel
Kosher and Halal gelatin capsule
Vegetable glycerin
Enteric coating
Natural sunflower tocopherols
The omega-3 fish oil contains EPA, DHA, and other fatty acids that are known for their abilities to provide protection to one's heart and cardiovascular health. Omega-3 is also good for fighting off inflammation which is useful for those with joint pain.
Dosage
Based on the website of OmegaVia, there are different dosages for different goals. If you want to use it for everyday health, take one capsule per day. To improve your triglycerides, you should take 3 to 4 softgels per day. For heart health and mood, take two softgels every day. As for joint health, 2 to 4 softgels will suffice. It is not recommended that you go beyond 4 capsules per day.
Possible Side Effects
If you follow the recommended dosage, you are not at risk of experiencing any side effects. You may experience fishy burping but this tends to disappear over time especially since this product is enteric coated. Take note, however, that if you are taking blood thinning medications or aspirin with this fish oil supplement, you are at risk of bleeding. This is why it is best that you consult your doctor first especially when you are pregnant, breastfeeding, below the age of 18 or are taking any other types of medication.
Price
At the time of writing you could buy a 60-count bottle of OmegaVia Fish Oil for $34.69 with free shipping. You could also purchase 2 for $29.89 per bottle; three or more bottles were $28.89 per bottle. If you subscribe to OmegaVia, you can get up to 22.49% savings. A single bottle on Amazon was available for $28.89.
Guarantee
OmegaVia offers a solid 100% money back guarantee within 90 days of purchase. They will only refund the first bottle so best not to buy a multi-pack until you are satisfied with the product.
Conclusion of Our OmegaVia Fish Oil Review
After studying the data that we have gathered for our OmegaVia Fish Oil review, we can say that we are impressed with the quality of the product especially since the amount of omega-3 is higher than most competitors. Also there are no additives, binders or fillers which is a plus. The money-back guarantee also allows you to try OmegaVia risk free.
However, we are concerned that the is steep for those who need a constant supply of omega-3. It may be a question of getting what you pay for in terms of the quantity of omega-3 but there are many notably less expensive alternatives out there.
Top investigative research brought to you by the experts at Customer Review.