Great HealthWorks OmegaXL Review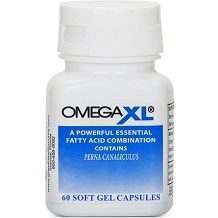 Here we review Omega XL, an Omega-3 fatty acid supplement by Great HealthWorks.  Omega-3 is associated with many benefits.  Most people have trouble getting a sufficient amount of Omega-3 through diet alone and choose to supplement. Omega XL claims to maintain and improve joint health while reducing pain from inflammation. Please read on for our detailed review.
Ingredients
Primary Ingredients
Perna Canaliculus patented oil extract (from green lipped mussels)
Natural extra virgin olive oil
The list of secondary ingredients is not provided by the manufacturer.
The primary ingredient list is reasonable as far as it goes.  Unfortunately, this very basic list does not provide the amounts of the EPA and DHA that in part comprise Omega-3 fatty acids. For an Omega-3 supplement to be effective the correct proportions of both are necessary.  We have no way to tell with Omega XL. This puts the consumer at risk of taking a largely ineffective product.
Dosage
Great HealthWorks recommends taking two softgels a day, with food if prone to stomach upset. Again, because of the paucity of information regarding the ingredients, we have no way of knowing whether this is a sufficient dose or not.  Too little of any supplement is useless and too much may be dangerous.  Further, we since cannot say whether or not the supplement contains any less common allergens, we urge consumers with sensitivities to practice extreme care.
Possible Side Effects
The manufacturer lists no side effects.  However, some reviewers have complained of headaches and stomach upset including nausea and diarrhea. Others noted a fishy taste.
Price
OmegaXL is available through the manufacturer's website with an "introductory offer" of two 60-capsule bottles for $59.95 (including shipping). It must be noted that Great HealthWorks puts purchasers on an automatic reshipment program and sends purchasers a new 60-count bottle every month for $60.90 (not including shipping). Consumers have reported difficulty in canceling this agreement. A one-time purchase of the same bottle on Amazon was even more expensive at the time of writing, costing $69.95.
Guarantee
Great HealthWorks offers a 90-day money-back guarantee but does not refund shipping and handling.  Purchasers must contact the customer service line to initiate a return and cannot simply send the product back.
Conclusion of Our OmegaXL Review
There are some positive aspects to OmegaXL. The company seems to obtain its Omega-3 from a good source and the softgel format is small and easy to swallow. The 90-day money-back guarantee is also encouraging.
However, the drawbacks outweigh the assets. First, there is only limited information about the ingredients, leaving unknown the exact amounts of EPA and DHA and creating questions about efficacy and dosage amounts. Consumers with sensitivities cannot know whether this product is safe for them. In addition, the automatic reshipping program is expensive and, apparently, not easy to exit. Finally, the ratio of Amazon customer ratings is not flattering with only 53% positive and a troubling 34% negative; many stated that it simply did not work.  Considering these factors, we cannot recommend this supplement.
Top investigative research brought to you by the experts at Customer Review.