aSquared Nutrition Thyroid Support Review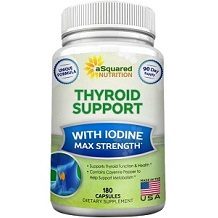 This is a review for a product called Thyroid Support that will explore the facts. This product claims to support a healthy thyroid and your hormone levels and also claims to assist with fatigue by increasing energy levels. It also claims to help with weight loss by boosting your metabolism and is also beneficial for dry skin and hair. The manufacturer claims that this product also assists with better sleep and that it is beneficial for maintaining overall health.
Ingredients
Vitamin B12 – 100 mcg
Iodine – 150 mcg
Magnesium – 200 mg
Zinc – 8 mg
Selenium – 200 mcg
Copper – 200 mcg
Manganese – 2 mg
Molybdenum – 50 mcg
L-Tyrosine – 300 mg
Schizandra Powder – 240 mg
Ashwagandha Root Powder – 200 mg
Bladderwrack Powder – 50 mg
Cayenne Pepper Powder – 30 mg
Kelp – 38 mg
Vitamin B12 is essential for correct brain function and development and also important for cells and nerves. Iodine lowers thyroid hormone and can also kill fungus, bacteria, and microorganisms. Magnesium is needed for proper bone growth and maintenance and is also beneficial for nerves, muscles and the movement of stools. Zinc is beneficial for skin conditions. Selenium is essential for proper thyroid and immune system function. Copper assists with storing and production of iron. Manganese helps assist with cholesterol and may benefit proper bone growth. Molybdenum helps to break down proteins and is important for body functions. L-Tyrosine helps create mental focus. Schizandra powder improves liver function. Ashwagandha root powder reduces blood pressure, reduces stress and inflammation. Bladderwrack powder treats and prevents thyroid disorders and is also a laxative. Cayenne pepper powder may assist with muscle and joint pains. Kelp helps assist with thyroid regulation and may also assist with weight loss.
Dosage
The manufacturer suggests that you should take two capsules per day along with meals or alternatively, you may use this product with the advice of a doctor.
Possible Side Effects
Although the manufacturer states that there are no side effects, there may also be concerns for possible allergic reactions to some of the ingredients that are used.
Price
This product can be purchased online from the manufacturer's website and is listed at $24.99 for 180 capsules. There are discounted rates of $22.49 per bottle when purchasing two bottles, $21.24 per bottle for three bottles and $19.99 per bottle when you purchase four or more bottles.
Guarantee
Unfortunately, the manufacturer will only refund this product if it is unopened, unused and in its original packaging. Refunds can only be requested for 30 days from purchase.
Conclusion of Our aSquared Nutrition Thyroid Support Review
This is a relatively ok product when considering that it does use some good ingredients and that it also seems to be a fairly cost-effective option, however, it is extremely worrying that you can not refund this product if you are not happy with the results after using it. It is also slightly concerning that the manufacturer has failed to suggest that there may be some allergy concerns and has also failed to list any cautions regarding the dosage and safety regulations for this product. Unfortunately, aSquared Nutrition Thyroid Support does not really seem to have any superior qualities in comparison to other similar products.
Top investigative research brought to you by the experts at Customer Review.