Apricot Power Thyroid Health Review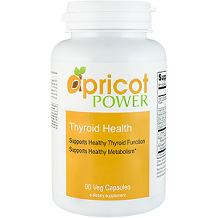 This is a review for a product called Apricot Power Thyroid Health that will examine all the facts. This product claims to support the health of your thyroid in order to encourage general overall wellbeing. The manufacturer claims that this supplement works by assisting with weight management by regulating your metabolism and also assists with aging symptoms such as tiredness by promoting a healthy thyroid.
Ingredients
Ashwagandha – 50 mg
Concentrace Trace Minerals – 5 mg
Copper – 1 mg
Folate – 400 mcg
Guggul – 75 mg
Iodine Moss – 200 mg
Kelp – 60 mg
L-Tyrosine – 1000 mg
Selenium – 50 mcg
Vitamin B6 – 2 mg
Vitamin B12 – 60 mcg
Zinc – 25 mg
Ashwagandha helps reduce stress with the chemicals it contains that help calm your brain, it also reduces inflammation and blood pressure. Concentrate trace minerals increase energy, help remove poisons from the body and reduce pain. Copper helps store and produce iron. Folate helps healthy cell formation and treats anemia. Guggul lowers cholesterol and assists with some skin conditions. Iodine reduces the thyroid hormone and can kill bacteria and fungus. Kelp may help to regulate your thyroid and assists with weight management. L-Tyrosine is an amino acid and assists with brain functions such as alertness. Selenium is a mineral that may be beneficial for body functions by encouraging the actions of antioxidants and is assists with underactive thyroids. Vitamin B6 and B12 are required for proper body and brain functions such as alertness and energy. Zinc is essential for the correct growth and maintenance of your body.
Dosage
The manufacturer advises that you should use this dietary supplement by taking two capsules per day either before a meal or without a meal. It is cautioned that if you are using some types of medications, that you should first consult a doctor before using this product. It is slightly unusual that this product seems to use a much lower dosage in comparison to other similar products.
Price
This supplement can be purchased online directly from the manufacturer's website and is listed at $19.99 for a bottle that contains 90 capsules which is 45 servings. There are some discounted options such as purchasing two bottles for $18.99 each and three or more bottles for $17.99 each.
Guarantee
The manufacturer offers a full money back guarantee within 30 days of purchase in the event that you are not satisfied with this product however, you may only request the refund of one opened and used product therefore, if you have purchased more than one bottle, they are required to be returned unopened.
Conclusion of Our Apricot Power Thyroid Health Review
Regarding the general support and health of your thyroid, this may be an ok product when considering that it is a very cost-effective option and that it does have some good ingredients listed. However, it is slightly worrying that the dosages used are noticeably lower when compared to other similar products which may influence the effectiveness and unfortunately, a low price generally leads to questions about quality standards. It is also a bit concerning that there are no possible side effects advised by the manufacturer and that there is only one customer review available for this product on the manufacturer's website that seems to speak extremely negatively about the results of this product.
Top investigative research brought to you by the experts at Customer Review.