Premier Research Labs ThyroVen Review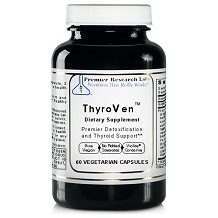 The following review is for a product called ThyroVen, a dietary supplement aimed at clearing toxins from the thyroid and enhancing its healthy functioning. ThyroVen contains an important element for a healthy thyroid which is Iodine.
Ingredients
This product contains 140mcg of iodine and a 436mg blend of the following:
Organic Kelp
Irish Moss
Bear Garlic
Motherwort
Organic Bladderwrack
Organic Chlorella
Fennel
Organic Turkey Tails
Oregano
Celery
Organic Parsley
These ingredients help to keep the thyroid in good shape. Celery helps to keep your thyroid active while Bladderwrack, a herb high in protein, stimulates efficient thyroid operation which boosts general bodily function. Other ingredients such as fennel seeds, oregano leaf, and the organic turkey tails are also very helpful in maintaining the thyroid.
However, we have reviewed several other top thyroid supplements and we have discovered that the major ingredients for thyroid health such as selenium and vitamin B12 are conspicuously absent from Thyroven.
Dosage
It is recommended to take one capsule three times daily i.e. in the morning, during the day and in the evening. It is not stated if this product should be taken with food or not.
From our research, we have established this dosage to be very high. The recommended daily intake of iodine is 150 mcg while daily usage of ThyroVen supplies 420 mcg. Iodine is important for thyroid health, no doubt, however, its excessive use could be counterproductive.
Possible Side Effects
Due to its excessive iodine content, ThyroVen could cause certain adverse side effects, particularly in pregnant women. Excess iodine could result in cognitive problems for the unborn child thus it is not recommended for expecting mothers.
Furthermore, high iodine levels can cause goiter, elevated TSH levels, and hypothyroidism. Thus, people with mild iodine deficiencies would be doing their body systems a favor by staying away from ThyroVen.
Price
ThyroVen is available to buy online for $19.95 from the manufacturer's website. There are no discounts or voucher offers available. There are also no trial options available.
Guarantee
Premier Research Labs offers no form of guarantee for satisfaction. However, they do offer a return policy which seems a bit complicated with lots of terms. For your first order, you are allowed to return one open bottle within 30 days. On any orders besides the first order, the bottle has to be returned in the same condition as you received it and this has to be done within 30 days. If the order is incorrect, you have to call them immediately.
Conclusion of Our ThyroVen Review
ThyroVen contains important plants and elements essential for thyroid functioning including iodine, celery and fennel seeds. ThyroVen is also 100% vegan and contains no added preservatives or harmful compounds. However, the actual quantities of these ingredients are not specified as this product contains a blend of these ingredients. This may affect the effectiveness of the product. It also lacks selenium which casts a huge doubt on the efficacy of this product. The manufacturer does not specifically provide a satisfaction guarantee. Rather, the provide a return policy which can seem complicated. Only for your first order are you allowed to return an opened bottle, and this needs to be done within 30 days. There are also no reviews for this product on the manufacturer's website which may indicate this is not a widely used product.
Top investigative research brought to you by the experts at Customer Review.