100 Naturals Thyroid Rite Review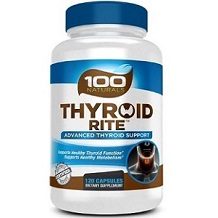 The subject of our product review today is 100 Naturals Thyroid Rite. The manufacturer claims that this supplement provides complete thyroid support, and can maintain healthy thyroid function, and a healthy metabolism. This is an all natural supplement with 14 vitamins and minerals. It contains no drugs.
Ingredients
Vitamin B-12 (cyanocobalamin) 100 mcg
Iodine (kelp) 150 mcg
Magnesium (oxide) 200 mg
Zinc (oxide) 8 mg
Selenium (amino acid chelate) 200 mcg
Copper (oxide) 200 mcg
Manganese (amino acid chelate) 2 mg
Molybdenum (amino acid chelate) 50 mcg
L-tyrosine 300 mg
Schizandra (herb powder) 240 mg
Ashwagandha root (herb powder) 200 mg
Bladderwrack (herb powder) 50 mg
Cayenne pepper (herb powder) 30 mg
Kelp 38 mg
Other ingredients include rice flour, gelatin, vegetable magnesium stearate, and silicon dioxide. These ingredients work to support thyroid functioning and to provide healthy synthesis of the thyroid hormones. There is a warning on the label that says that the product contains soy and shellfish.
Dosage
Take two capsules daily with food. The manufacturer does not specify the time of day to take this supplement, or whether you can take both capsules in one sitting.
Possible Side Effects
There are no warnings, nor side effects mentioned on the company website, and we couldn't read the product label because it was too small to view on the website. On Amazon we found more information however. Do not exceed the recommended dose. Do not use in conjunction with other products high in iodine as excessive iodine intake may be harmful. Consult a physician before using this or any dietary supplement especially if pregnant or nursing, children under age 18, and individuals with a known medical condition.
Price
You can purchase this supplement directly from the manufacturer's website where  one bottle of 120 capsules costs $23.95. This is enough for a two months supply of capsules and represents good value for money. Shipping is free on all orders within the U.S. There are no additional savings for new customers or bulk purchases. There is a 15% club discount if you add your email and sign up for the newsletter on the website, but both of the links that we checked did not work.
Guarantee
This product is backed by a 100% manufacturer's satisfaction guarantee that covers the first 100 days from the purchase date. The return policy allows opened bottles as well as closed ones.
Conclusion of Our Thyroid Rite Review
We were encouraged by a number of aspects of this supplement. It is made in the USA by an FDA registered cGMP certified facility with 100% natural ingredients. It has a very strong one-hundred day return policy and guarantee that even allows you to return opened bottles of capsules for a refund. It contains key ingredients proven in clinical studies to be effective at managing the thyroid. The supplement is priced well at $23.95 for a two month supply of capsules, and comes with free shipping, and an additional 15% off if you add your email address and subscribe to the company newsletter. We do have some concerns however. This product contains gelatin and therefore unsuitable for vegans or vegetarians. Thyroid illness is a very serious health concern that can have dangerous symptoms that require careful and intensive monitoring by a medical physician, we are therefore very concerned that users will think that a supplement can substitute the need for real medical care. This or a similar statement needs to be in large letters all over the company website and product label. There is no mention on the product website who the target audience is for this supplement. It is very concerning that it is unclear if this is for people with an underactive, or an overactive thyroid.
Top investigative research brought to you by the experts at Customer Review.