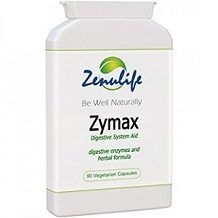 Today we review Zenulife Zymax. Formulated with specific enzymes to help detoxify your body, this natural supplement will help support a healthier, more natural digestion. When your body is digesting food correctly, it will lead to better breath!
Ingredients
Betaine Hydrochloride
Bromelain
Papin
Protease
Amylase
Lipase
Apple Cider Vinegar
Caraway Seed
Chamomile Herb
Fennel
Ginger Root
Peppermint Leaf
This supplement has plenty of ingredients to help as a digestive aid, but not as one to help stop halitosis. Most bad breath supplements include probiotics to help balance the bad bacteria in your mouth. Instead, this supplement focuses in your gut to make sure food is being digested properly. On the positive side, the capsules are 100% vegetarian and gluten free, making them easy for anyone to take.
Dosage
The directions say to take 1-2 capsules with each main meal. It is not clear enough if that means you should take three doses per day, or exactly how many meals the manufacturer considers important. Especially with the on-the-go lifestyle most Americans have, this could be even more difficult to determine exactly how many doses and when to take them throughout the day.
Possible Side Effects
If you suffer from peptic ulcers, you should avoid using this supplement. Additionally, the packaging warns that you should not exceed the maximum dose of this product. Unfortunately, without clearer directions, there is no maximum dose listed.
Price
One box of 90 vegetarian capsules has a manufacturer's suggested retail price of $49.00. If you make your purchase online, the price is only $29.00 per bottle. Additionally, the manufacturer is providing a buy 2, get 1 free offer. While it is not clear exactly how long one bottle will last, if you take advantage of this special sale, then the price of this supplement is average, when compared to other products used to combat bad breath.
Guarantee
This company does offer a 60 day, money back guarantee. If you are not happy with your purchase, you can contact their customer service representatives. After returning your unused product, you will be granted a full refund of your purchase price.
Conclusion of Our Zenulife Zymax Review
There are a few things we liked about Zenulife Zymax. This product does come with various discounts and sales making the product more affordable. Additionally, there is a good guarantee for this product, making it easier to request a refund for unwanted product.
We did, however, find many problems with this supplement. First of all, while the ingredient list has good digestive enzymes, there are no nutrients that will specifically target your bad breath or halitosis. Secondly, the dosing instructions are too vague and do not specify exactly how many doses to take per day. Lastly, without proper directions, we are not able to truly asses the price of this supplement, which could make it more expensive than its competitors. For these reasons, we cannot recommend this supplement to help you get fresher breath.
Top investigative research brought to you by the experts at Customer Review.