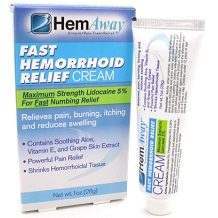 Hemorrhoids can cause severe itching, pain, burning and discomfort when sitting. One of the many products that promise to address these symptoms is Fast Hemorrhoid Relief Cream from HemAway. This product differentiates itself by promoting two key ingredients, "prescription strength" lidocaine to relieve the pain (without a prescription) and phenylephrine to reduce the swelling. Read our HemAway Fast Hemorrhoid Relief Cream review to help you determine whether it is the right product to help you address hemorrhoids.
Ingredients
5% lidocaine (a local anesthetic)
Phenylephrine (a powerful vasoconstrictor)
"Permeation enhancers" (unspecified, to aid in absorption)
Grape skin extract
With this list of ingredients, HemAway Fast Hemorrhoid Relief Cream is designed to reduce swelling and inflammation of blood vessels, soothe irritated areas, and provide fast relief. It is also said to be non-greasy, as it is petroleum-free.
Dosage
HemAway is a topical product and for external use only. Before you apply the product, make sure you wash and cleanse the affected area with warm water and mild soap. Rinse it thoroughly then gently pat the area dry.
You can apply this cream up to four times a day. The product is easy to use but, as a cream, it is difficult to quantify how much you should use. In fact, there is no recommended dose.
Possible Side Effects
Due to the lack of recommended dose, it is best to pay attention to the possible side effects when using the product. The manufacturer recommends you contact your doctor if use of HemAway results in any of the following:
Allergic reactions
Rectal bleeding
Redness
Swelling
Irritation
Pain
If you have existing heart conditions, diabetes or thyroid disease, it is best to avoid this cream unless cleared by your doctor. Pregnant and breastfeeding women should likewise avoid this cream.
Price
At the time of our review you could buy a 1-oz tube of HemAway for $26.99, including free shipping. This price was listed as $3.00 off the regular retail price. Slight discounts were available if you purchased two tubes together ($26.00 per tube) or three tubes (at $24.00 per tube).
Guarantee
In case you are not satisfied with the product, you have the option to return your purchase within 90 days. The company offers full refund as long as the creams are not damaged and returned in their original packaging. The company will shoulder the shipping costs if the reason for return is when you received incorrect or damaged item. Otherwise, you will have to pay the return shipping fee.
Conclusion of Our HemAway Fast Hemorrhoid Relief Cream Review
One notable feature of this product is that it has petroleum-free formulation (which means it is odorless, non-greasy and non-staining) and seems to be comprised of components which should create an effective formula. The return policy is customer friendly and encourages new customers to try it. On the other hand, the product has limited Amazon customer reviews (at the time of our review, three to be exact, one of which was an Amazon verified purchase). This is an issue in determining the effectiveness of the product since three reviews don't determine a trend. You may also want to check other products that are more affordable that HemAway Fast Hemorrhoid Relief Cream.
Top investigative research brought to you by the experts at Customer Review.