Tronolane Dual Action Anesthetic Cream Review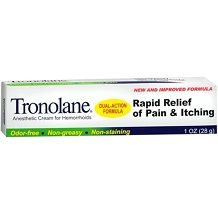 Today we are reviewing a product called Tronolane Dual Action Anesthetic Cream. This is an ointment designed to treat hemorrhoids. The manufacturer of this product claims that this ointment can shrink hemorrhoids and cure common symptoms such as inflammation, itching, and burning sensations.
Ingredients
Pramoxine hydrochloride
Zinc oxide
Lubricators like cetyl alcohol and glycerine
Inactive ingredients:
Cetyl alcohol
Cetyl esters wax
Glycerin
Methylparaben
Propylparaben
Sodium lauryl sulfate
USP water
Pramoxine hydrochloride acts as a local anaesthetic because it binds to sodium channels on free nerve endings. Zinc oxide acts to prevent irritation from any form of chafing and as an astringent. The lubricating agents cetyl alcohol and glycerine  protect the hemorrhoid tissue from further damage.
Dosage
Clean and carefully dry the affected area using warm water and a mild soap. Apply the ointment to the area up to five times per day. The ointment has an applicator for easier application.
Possible Side Effects
There are no side effects listed on the product label. This product is for external use only. Do not use on children under 12 years old unless a doctor has been consulted. Do not exceed the recommended dosage. If pregnant or nursing, consult your healthcare professional before using. If your condition does not improve, or if redness, irritation, swelling, pain or other symptoms develop or increase, discontinue use and consult a doctor. Stop use and ask a doctor if bleeding occurs; condition worsens or does not improve within 7 days.
Price
The price on Amazon for a 1 oz. of Tronolane Dual Action Anesthetic Cream is $6.25  including shipping. There are no special discounts for first time customers nor bulk buyers on the manufacturer's website.
Guarantee
The manufacturer does not provide any form of guarantee or return policy on this product. Amazon and other third-party vendors may offer their own separate guarantee policies.
Conclusion – Tronolane Dual Action Anesthetic Cream Review
We have a few positive things to say about this hemorrhoid ointment. The ointment is not too expensive to buy and comes with an easy to use applicator. We liked that the ointment is non-scented, non-greasy, and non-staining. The active ingredients might provide some benefits in the treatment of hemorrhoids by lessening inflammation and numbing pain through its local anesthetic agent. Among the negative comments that we have are that there is no guarantee nor return policy provided by the manufacturer. There is no bulk buying nor first time customer incentive. If using the product up to 5 times a day, a 1 oz tube of cream could run out very quickly and therefore making the $6.25 purchase seem high. The instructions do not state how long to use the ointment for or how much to apply to the affected area. The reviews that we read on Amazon indicated that there were very mixed results. Many people stated that they did not see a marked improvement in their hemorrhoid or that the benefits of the ointment were too slow or minimal to make the product worthwhile to recommend. We recommend that you look for a better product that has the backing of a reliable guarantee and return policy and one that offers bulk buying and more positive, trusted reviews.
Top investigative research brought to you by the experts at Customer Review.