Western Herbal and Nutrition Hem-Relief Review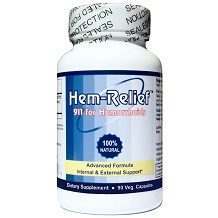 Marketed as a 100% natural product, Hem-Relief aims to deal with flare-ups of both internal and external hemorrhoids. It is one of the older products of this kind on the market, having been around since 2003. The natural ingredients used in making the oral preparation are said to contain a "full biochemical spectrum" that adds to efficacy. Find out from our Hem-Relief review the things you need to know before making your purchase.
Ingredients
This natural remedy for hemorrhoids is made using three herbal extracts that have supposedly been shown to help manage hemorrhoids. These are:
Native to Eastern North America, witch hazel leaf has astringent and hemostatic properties for dealing with swollen anal or rectal veins along with itching, pain, and irritation. Horse chestnut is renowned for its anti-inflammatory properties and ability to repair damaged vascular tissues, including hemorrhoids. Ginger root, which boasts amazing antibiotic and antioxidant properties, guards against infections and soothes the digestive tract.
Dosage
Hem-Relief is an easy-to-use oral medication. The advice is to take 3-4 capsules of the supplement three times a day until there is relief. After seeing progress, you can start taking 2-3 capsules daily to prevent a return of the problem. This should be taken with food. It is important to drink plenty of water when using this product.
Possible Side Effects
The product's manufacturer says it does not produce harmful side effects or interact with most medications. However, people who are sensitive to the ingredients contained in Hem-Relief may experience side effects. These include constipation, upset stomach, nausea, itching, vomiting and worsening of heart issues. The likelihood of side effects is higher the longer you are exposed to these ingredients.
There is also the possible risk of one or more of the ingredients interacting with other medications. For example, horse chestnut and ginger may lower your blood sugar levels. You should avoid using with medications for managing diabetes. It is vital to speak to a doctor before using Hem-Relief.
Price
The price of a bottle of Hem-Relief is $39.95. Each bottle contains 90 capsules. You can get a better offer when you buy more than one container. By buying two bottles of Hem-Relief, you will save $10. Four bottles are available for a total cost of $124.80 ($35 savings) online via the manufacturer's website.
Guarantee
Your purchase of this hemorrhoids treatment comes with a 90-day money-back guarantee. You will get your money back by returning the product bought within 90 days if you are not satisfied. Shipping and handling costs will not be refunded, though. But it appears you will not get any refund for the product if you have already opened it.
Conclusion of Our Hem-Relief Review
You may rightly expect Hem-Relief to help deal with your hemorrhoids. It is manufactured in an FDA-certified laboratory said to meet the current good manufacturing practices (cGMP). The money-back guarantee also looks generous. However, you are not able to return any opened bottles. Perhaps, because we all differ in our body compositions, the treatment may not work in all cases. There are also possible side effects, although it is considered safe. The potency of the product seems to be quite low compared to other products on the market, which may affect the effectiveness. Most of the reviews for Hem-Relief seem postive, however, there are some that say they are not sure it is working.
Top investigative research brought to you by the experts at Customer Review.