Thalgo Stretch Mark Cream Review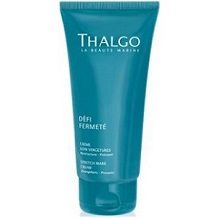 This review examines Thalgo Stretch Mark Cream to bring you all the real facts about this product. The manufacturer claims that this product will assist by increasing the elasticity of your skin and that it can also reduce the appearance of stretch marks. This product also claims that it can help prevent stretch marks.
Ingredients
Marine Collagen
Marine Elastin
Centella Asiatica Plant
Wheatgerm Oil
Alpha-tocopherol (Vitamin E)
Marine Collagen and Marine Elastin may work to prevent stretch marks. Centella Asiatica Plant may help reduce inflammation and may also boost collagen production. Tamanu Oil is used to help treat skin conditions such as sunburn, rashes and burns. Wheatgerm Oil is used to help prevent sunburn although, research suggests that there i not enough evidence to show if this ingredient is effective. Vitamin E is beneficial for healthy skin and can assist to prevent change in cell membranes it can also nourish skin.
Dosage
It is recommended by the manufacturer on the product's website that you should apply the cream daily on the applicable skin areas from the third month of your pregnancy and that you should continue use until your menstruation has returned.
Possible Side Effects
No side effects are mentioned on the company website.
Price
You can purchase this skin care product online and it will cost you $40.00 for a tube that contains 5.07oz when you purchase it through the manufacturer's website. There are no discounted options offered for bulk purchases which are rather disappointing considering that this is quite an expensive option.
Guarantee
The money back guarantees provided for this product states that in order to qualify for a refund, the returned product is required to be at least 75% full and that you can only request a refund for any reason within 45 days of your purchase. This guarantee is slightly concerning as it likely does not cover the effective results of the product as it needs to be almost full upon returning.
Thalgo Stretch Mark Cream Review
This product does use some good ingredients and it also has a manufacturer's guarantee which could suggest that this is an ok product, however, we find it concerning that the provided guarantee probably does not cover the effective results for this product and may only cover the quality offered. It is also quite worrying that this product is extremely expensive especially when realizing that there aren't many customer reviews available, unlike other similar products. Based on all the relevant aspects of Thalgo Stretch Mark Cream, it really does not seem to stand out in any significant ways in comparison to most other similar products and therefore, we recommend that you should rather consider a product from a leading brand that would be far more effective.
Top investigative research brought to you by the experts at Customer Review.