Apothederm Stretch Mark Cream Review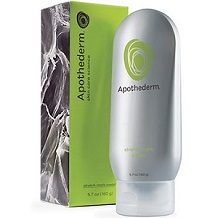 Today we review Apothederm Stretch Mark Cream. This special cream will help reinforce your skin to help visibly reduce and repair stretch marks. With a fast-absorbing formula, your skin will have replenished collagen to smooth the texture of your skin.
Ingredients
Heptapeptide-7
Limnanthes Alba (Meadowfoam) Seed Oil
Olea Europaea (Olive) Fruit Oil
Theobroma Cacao (Cocoa) Seed Butter
Sodium Hyaluronate
Pichia/Resveratrol Ferment Extract
Glycyrrhiza Glabra (Licorice) Root Extract
These ingredients are known for helping to heal the skin and reduce the look of stretch marks. However, it is not stated how much of each ingredient is used in the lotion, making it more difficult to truly determine the effectiveness of this product.
Dosage
You should apply this cream twice a day, once in the morning and again in the evening. Use a circular motion to gently massage the lotion into your stretch marks. The cream should soak into your skin completely before you put on clothing. For the best results, this lotion needs to be used consistently, every day for 12 weeks.
Possible Side Effects
We found no listed side effects or warnings for this lotion. Even though no customers reported adverse side effects, it is also important to note that over 60% of customers left negative reviews stating that this lotion did not help them smooth their skin at all.
Price
Every bottle contains 5.7 ounces of lotion and costs $95.00. This price is outrageously expensive, especially for a product that has been reviewed to not be effective. The manufacturer does offer free shipping on purchases over $75, which one bottle of this cream is automatically eligible for. Aside from free shipping, we found no additional discounts for this lotion.
Guarantee
This manufacturer does offer a refund policy for its products. Should you find yourself unhappy with the lotion, you have 30 days to contact customer service and request a refund. Only one item of each product can be returned for a refund, and the shipping costs will be deducted from the amount returned to you. While it is good the company offers this policy, it does not last for the 12 weeks they claim is needed to see the full results of this lotion.
Conclusion of Our Apothederm Stretch Mark Cream Review
There are a few things we liked about Apothederm Stretch Mark Cream. Formulated with top skin care ingredients, this lotion has the nutrients your skin needs. Also, there are no listed or reported side effects from this lotion.
Unfortunately, we had many concerns with this product. First of all, over 60% of customers reported that this cream offered little to no results at all in reducing the looks of their stretch marks. With a price of almost $100, we would expect to see better results and reviews. Lastly, this product can take up to 12 weeks to show full results, but the refund policy only lasts for 30 days. For these reasons, we cannot recommend using this lotion to help reduce the look of your stretch marks.
Top investigative research brought to you by the experts at Customer Review.