Ayurved Research Foundation Pilesgon Review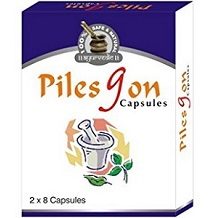 Hemorrhoids, also known as piles, can be found both internally and externally. Internal hemorrhoids cause bleeding but are not painful, whereas external hemorrhoids are incredibly uncomfortable as they are itchy and painful. Here we present our Ayurved Research Foundation Pilesgon review. This product claims to aid in the relief of internal and external hemorrhoids as well as bleeding, irritation, pain and inflammation. There are many products on the market which offer short term relief, but this one says it will actually get to the root cause of hemorrhoids for a long term treatment. After thorough research, we put together the comprehensive report below. Peruse our findings to see if this natural product is the right one for you.
Ingredients
Ayurved Research Foundation Pilesgon is an all natural treatment. As such, it does not contain typical ingredients. Here is a list of the different herbs found inside each capsule:
Mesua Ferrea (Nagkesar)
Sapindus Mukorossi (Ritha)
Acacia Catechu (Kttha)
Extractum Bryophyllum Calycinum (Hemsagar)
Terminalia Chebula (Haritaki)
Berberis (Rasaunt)
Vernonia Anthelmintica (Kalijiri)
Eupatorium Ayapana (Ayapana)
Wrightia Tinctoria (Indrajau)
Daemonorops draco Blume (Khun Shosha)
Sodii Biboras (Shudh Takan)
Dosage
The recommendation is to take 1 or 2 pills twice a day over a period of 2-3 months for a complete recovery.
Side Effects
The manufacturer alleges that there are no side effects both from taking this product and from stopping to take it. As there are not many consumer reviews online, it is difficult to back up this claim.
Price
This product is available for purchase directly from the manufacturer's website. The more you buy, the more you save. For example, 32 capsules can be purchased for $22, 48 capsules are available for $30 and 64 capsules can be bought for $39. The best deal is to buy 80 capsules for $45, saving the consumer $10.
Guarantee
If you try this product for 2-3 weeks and are not satisfied with the results, the manufacturer will offer a full refund on any unopened bottles. Returns must be within 30 days and does not include a 25% restocking and shipping fee.
Conclusion Of Our Ayurved Research Foundation Pilesgon Review
The first thing we noticed in writing this Ayurved Research Foundation Pilesgon review, is that the manufacturer's laboratory is GMP certified. This is an important certification which is not present in all natural supplements. We also like that their capsules contain all herbal ingredients. It is amazing to get medical treatment from an all natural plant product, however, we wonder how effective it really is. The manufacturer states that it may take 3 months of taking this product before noticing any results. Unfortunately, hemorrhoid pain is so bothersome that immediate relief is often necessary. Many natural supplements are usually sold with a topical cream which offers soothing treatment to painful hemorrhoids.
Additionally, we did not find many consumer reviews who advocated the use of this product. One might assume that most people would not turn to a product which only offers pain relief after a 3 month period. We would recommend researching other products before spending money on this one.
Top investigative research brought to you by the experts at Customer Review.