ClearMed Hemorrhoid Treatment Review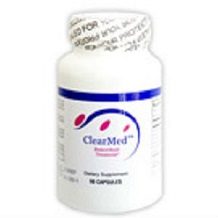 Wonder why you keep getting hemorrhoids? You may be predisposed to this condition. Strong links have been found to prove that hemorrhoids are connected to genetics. It's not all bad news. Fortunately, there are an enormous amount of treatments to help mitigate the pain as well as heal hemorrhoids. The problem becomes choosing which product to try. When pain is intense, you don't want to waste time on inferior brands.
Therefore, here is our ClearMed Hemorrhoid Treatment review. This pill was formulated by 2 researchers and claims to not only treat hemorrhoids but to actually heal them in only 5-7 days. Their triple-action
Ingredients
Witch hazel leaf – 800mg – Works as an anti-inflammatory agent. In addition, it's an astringent, which constricts veins in order to stop bleeding.
Horse chestnut leaf – 200mg – Contains aescin, which is known to improve vein strength and elasticity as well as reducing inflammation.
Ginger root – 100mg – Aids blood circulation as well as the digestive system. Additionally, it works to decrease inflammation which works to mitigate pain.
Blonde psyllium – 100mg – Helps to loosen stool, which greatly helps suffers of hemorrhoids.
Hesperidin – 100mg – A citrus bioflavinoid, this helps strengthens veins to heal hemorrhoids.
Diosmin – 300mg – Very effective in protecting veins as well as acting as an anti-inflammatory agent.
Dosage
The manufacturer recommendation is to take 2 pills per day.
Side Effects
Each ingredient may be responsible for certain side effects. If you experience any of these symptoms, stop taking this product and call your doctor.
Witch hazel – Vomiting or constipation
Horse chestnut leaf – Digestion issues
Ginger – Complications with absorbing fat soluble vitamins
Blond psyllium – Allergies include: sneezing, difficulty breathing, hives, swollen eyelids and nasal passages
Hesperidin – Nausea, stomach pain, vomiting and diarrhea
Diosmin – Headache, diarrhea and stomach pain
Additionally, speak to your healthcare professional if you are on any medications as they may interfere with the efficacy of this supplement.
Price
The severity of the hemorrhoids will determine how much of this product you will need to buy. It is available for purchase on the manufacturer's website. After perusing popular third-party websites, we did not find it sold elsewhere.
For mild hemorrhoids:
1 week supply is $39.95
2 week supply is $59.95
For moderate to severe hemorrhoids:
For a 4 month supply:
8 bottles for $159.00
Savings of $130.00
Guarantee
The manufacturer promises a 100% satisfaction rate. To claim a refund, returns of the unused capsules must be sent in within 60 days.
Conclusion Of Our ClearMed Hemorrhoid Treatment Review
Our ClearMed Hemorrhoid Treatment review concludes with the following thoughts.
Firstly, the fact that they have an FDA approved laboratory inspires confidence and trust. Secondly, the manufacturer's website is clear and thorough. It is easy to find any information you may be looking for about this product. Unfortunately, we came across some negatives aspects about this supplement as well.
While this product seems to be effective, the only reviews published on the manufacturer's website are positive ones. This is suspicious as not every supplement will work identically for every person. As this product is not sold elsewhere, it is difficult to obtain truly objective reviews. Additionally, while this pill may work well, it takes 5-7 days to take effect. For someone suffering from severe hemorrhoid pain, every minute is agony. Waiting 5-7 days is not an realistic option. It is recommended to use a topical cream, as well as an oral supplement, for maximum relief and healing.
Top investigative research brought to you by the experts at Customer Review.