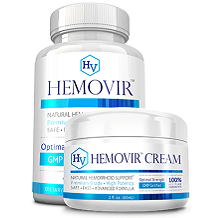 Here we have a review for Hemovir Natural Hemorrhoid Support; which is an all natural treatment for hemorrhoids. Hemorrhoids are a very unpleasant condition plaguing many individuals. The itching, inflammation, and pain associated with this condition can be almost unbearable. There is however a solution. Hemovir Natural Hemorrhoid Support is a clinical strength hemorrhoid treatment system that comes in the form of a cream as well as a dietary supplement. Both are formulated to treat the symptoms while soothing and acting as an anti-inflammatory. In addition to treating the immediate symptoms of this condition Hemovir also works as a preventative measure.
Ingredients

Supplement
Diosmin – Promotes circulatory health, blood vessel strength and reduces inflammation.
Bilberry – Has anti-inflammatory and astringent properties.
Witch Hazel – Strengthens veins, reduces bleeding and has astringent properties.
Plantain – Promotes healthy circulation and acts as a laxative.
Ginger Root – Improves blood circulation and has anti-inflammatory properties.
Rutin – Promotes the blood circulation of capillaries in anal region.
Mullein Leaf – Promotes healthy stool consistency.
Hesperidin – Significantly reduces symptoms and prevents outbreaks from reoccurring.
Red Root – Shrinks distended blood vessels in anal area.
Oat Straw – Is an emollient, anti-inflammatory and soothes irritation.
Cayenne Pepper – Reduces pain and increases blood flow.
Butcher's Broom – Shrinks dilated blood vessels and relieves itching.
Cream
Petrolatum – Locks in moisture and promotes healing.
Anhydrous Lanolin – Moisturizes and lubricates irritated skin and minor wounds.
Aloe Vera – Has antibacterial and anti-fungal qualities; soothes irritation and swelling
Ginger Root – Relieves pain and improves blood circulation.
Butcher's Broom – Shrinks dilated blood vessels and relieves itching.
Peppermint Oil – Eases digestive problems.
Glycerin – Lubrication for the anal canal .
Oat Straw – Soothes irritation and relieves inflammation.
Rutin – Promotes healthy blood circulation.
Clove Bud Oil – For pain relief.
Lidocaine HCL – Treats minor discomfort, swelling and itching.
Hesperidin – Affords symptom relief and prevents recurrence of outbreaks.
Diosmin – Promotes healthy blood flow.
Organic Marigold – Controls bleeding and swelling and soothes irritation.
Cetyl Alcohol – Lubricates, moisturizes and relieves itchiness.
Psyllium Husk – Relieves constipation.
Witch Hazel – Strengthens veins, reduces bleeding and has astringent and anti-inflammatory properties.
Vitamin K-1 – Reduces blood clotting.
Bilberry – Strengthens blood vessels.
Dosage
Capsules
Hermovir is to be used as any other dietary supplement. Instructions say to take two capsules three times a day. That's two capsules in the morning, two in the afternoon and two at night. Be sure not to exceed the recommended dose of Hemovir; additional doses over the recommended amount won't speed your recovery or increase the preventative aspects of this supplement.
Cream
For the cream you are instructed to simply apply directly to the affected area 3-4 times a day until the area clears and your symptoms subside.
Possible Side Effects
Capsules
There are no reported side effects associated with the use of this supplement. However, pregnant or breastfeeding women, children under the age of 18 and individuals with known preexisting medical conditions who are taking medications are advised to consult their doctor before using this dietary supplement.
Cream
On average there are no reported side effects associated with the use of this treatment. However, if you are pregnant, breastfeeding or taking other medications you should consult your doctor prior to use. Discontinue the use of Hemovir cream immediately and seek medical attention if you experience an allergic reaction associated with the use of this product. Do not use if you are allergic to any of Hermovir's ingredients.
Price
For individual sample units of Hemovir the cost is $49.95 per bottle, both for the supplement and the cream. However, there are several packages that offer a discount when you buy multiple units at once.
Guarantee
Hemovir Natural Support comes with a buy–safe three–in–one guarantee. This guarantee includes identity theft protection for your online purchase, purchase guarantee and a lowest price guarantee all no cost to you. In addition to the buy-safe guarantee Hemovir offers a 60 day money back guarantee. If you are unsatisfied with the results of this product any time during the 60 day period simply return the unused portion and receive a full refund, no questions asked.
Conclusion of Hemovir Review
Hemovir Natural Support is a very effective all natural product that out performs all of it's competitors in the homeopathic market. It's 100% natural and clinically proven to treat your hemorrhoids. Combine this with a 100% satisfaction guarantee and bulk buy discounts and you get one of the best all natural hemorrhoid treatments on the market today.
Top investigative research brought to you by the experts at Customer Review.