Naturasil for Ringworm Review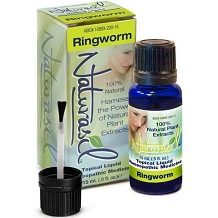 Ringworm is not a worm per se, but rather a fungal infection that creates a circular pattern reminiscent of a worm. It is very itchy and unsightly and something you definitely don't want on your body. It is, however, more common than people think and is often transferred between children and animals. So how can you get rid of this fungus? One option is to use Naturasil for Ringworm. This plant-extract product claims to effectively eliminate ringworm by truly penetrating into the fungus. Many of the ingredients should also provide symptom relief. The product should start producing results within 4-7 days. For more information on Naturasil for Ringworm, read our review below.
Ingredients
Sulfur 6X HPUS
Cymbopogon Citratus Leaf Oil
Eucalyptus Leaf Oil
Jojoba Seed Oil
Melaleuca Alternifolia Leaf Oil
Patchouli Leaf Oil
All these ingredients are naturally sourced from plants. Some of their properties include being anti-fungal, anti-bacterial, anti-inflammatory, analgesic and providing symptom relief such as relief from itchiness.
Dosage
The product bottle states to first clean the infected area with hydrogen peroxide, before applying it. This product is topical and should be applied directly to the infected area, 2-3 times per day for 1-3 weeks, depending on the size and severity of the ringworm. The product comes in a liquid form can be applied using a built-in applicator brush.
Possible Side Effects
This product lists no specific side effects but states that some individuals may be sensitive to essential oils. It is recommended to first test the product on an area of the skin and to discontinue use if an irritation occurs.
Price
Naturasil for Ringworm is sold in 15ml bottles at $24.95 per bottle. The product is available online from the manufacturer's website, as well as other third-party websites such Amazon.
Guarantee
The manufacturer provides a 90-day, 100% money-back guarantee, applicable if the product does not meet your expectations in terms of delivering on its promise.
Conclusion of our Naturasil for Ringworm Review
Naturasil for Ringworm seems to be an effective ringworm eliminator as seen by the many positive reviews on the manufacturer's website. It comes with an easy to use applicator and has a manufacturer's guarantee. You should be aware of the possibility of a reaction to the product, due to the numerous plant extracts and should test it first. This is concerning as the product might end up worsening an already painful skin condition. The product does not seem to advocate being able to address the symptoms associated with ringworm, such as itchiness, dryness, and redness. We can only deduce that it should provide relief when we look at the individual ingredients. All things considered, we recommend doing proper research on all products available and really decide if this is the best choice for you.
Top investigative research brought to you by the experts at Customer Review.