Puriya Wonder Balm Review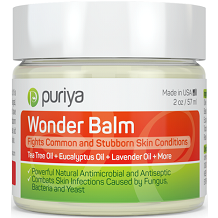 Ever find yourself victim to one of those horrible fungal infections commonly called ringworm, jock itch and athlete's foot? Well, you are not alone. These infections are itchy and can cause your skin to become red, scaly and cracked. An instant relief and a cure are necessary, and you can find it from multiple products on the market. Today we review Puriya Wonder Balm and perhaps it can work for you. This product claims that its ingredients are antifungal, antimicrobial and antiseptic, the perfect combination to combat stubborn fungal, bacterial and yeast infections. It promises to not only fight these infections but to provide rapid relief for their associated symptoms, such as itching, dry skin, redness, scaling, chafing and burning. Said to be the perfect companion for active people, who know how important your skin is to keep you performing at your best. Does it sound to good to be true? Keep reading to find out if it is all it promises to be.
Ingredients
Macadamia nut oil
Canola Oil
Olive Oil
Cetostearyl alcohol
Tea Tree Oil
Eucalyptus Australiana Oil
Beeswax
Tocopherol Acetate
Rose Geranium Oil
Vitamin C
These are all-natural ingredients, many of which have been known century old cures. The ingredients such as beeswax and olive oil help the balm to stay on longer. This may be a problem for some as it can start to feel oily after a while. It is also said that the balm has a very strong smell, which many people find soothing, but may not be enjoyed by all.
Dosage
It is recommended to first clean the infected area and then apply the product. The product is to be applied topically to the affected area 2-3 times a day. Avoid eye contact and discontinue if it causes any form of irritation.
Possible Side Effects
This product lists no specific side effects, but says to stop use if an irritation occurs. The cream is to be used topically only, avoiding all contact with eyes.
Price
Puriya Wonder Balm is available for an online purchase from the manufacturers website, for a price of $34.97. This price may be too steep for some to pay for 2oz of the product, but the many positive reviews state otherwise.
Guarantee
The manufacturers provide an unconditional 180-day money back guarantee, if you are not satisfied with the Wonder Balm in any way.
Conclusion of our Puriya Wonder Balm Review
Puriya Wonder Balm offers a 100% natural ingredient product that seems to work well. They have numerous positive reviews and offer a money back guarantee that is always reassuring when purchasing a product. Many people may be put off by the fact that the product is strong smelling and may leave the affected area feeling slightly greasy. It is also on the slightly expensive side of things. Our review of Puriya Wonder Balm has provided all the facts, now it is up to you to decide.
Top investigative research brought to you by the experts at Customer Review.