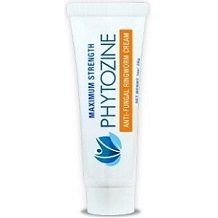 Phytozine is the focus of our product review in this article. The maker's of this cream claim that its formulation contains antiviral properties that can kill fungus and cure ringworm instantly. They also claim that this product has been specially designed to treat ringworm effectively.
Ingredients
Tolnaftate is an antifungal used for the treatment of skin infections like athlete's foot, jock itch, and ringworm because it prevents the growth of fungus. Research shows that tolnaftate may cause side effects such as possible skin irritation, allergic reactions and likely require medical attention, unfortunately.
Dosage
The manufacturer advises that you to keep the infected area clean and dry during treatment and that you should apply the cream twice daily, in the mornings and evenings. Allow 3-4 minutes for it to absorb before covering the skin and that increasing applications will treat severe infections faster. You should wash your hands after each application to prevent possible spreading.
Possible Side Effects
Research shows that tolnaftate may cause side effects such as possible skin irritation, and even serious allergic reactions.
Price
You can purchase this product online directly from the manufacturer's website where one tube will cost you $39.95 and is advertised as a one month supply. There are additional discounted options offered such as purchasing three tubes $79.90 implying that one tube is free and another option to purchase five tubes for $119.85 implying that two tubes are free, offering a significant discount.
Guarantee
The manufacturer advertises that a 60-day full money back guarantee has been provided for this product which suggests that they do have confidence and that they also endorse customer satisfaction by offering a risk-free purchase.
Conclusion of Our Phytozine Review
This product does seem to use some good ingredients that may help assist with ringworm and it also has a strong money back guarantee provided which shows that it could be viewed as an alright product to opt for, however, this product is extremely expensive for a ringworm treatment product and it is greatly concerning that the main ingredient used may actually cause allergic reactions and other side effects such as skin irritation thus suggesting that it is probably not the most suitable option for everyone. Phytozine unfortunately also seems to have no customer reviews available from the manufacturer's website and most research shows little to no evidence that this product really does work and therefore, we advise that you should rather consider other similar products that are available from leading and trusted brands that would prove to be far more suitable and offer proven effective results rather than just claims.
Top investigative research brought to you by the experts at Customer Review.