MPM Medical Anti-Fungal Cream Review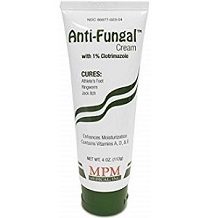 Today we are reviewing a product called MPM Medical Anti-Fungal Cream. The manufacturer claims that this product will help relieve any discomfort associated with a fungal infection including ringworm.
Ingredients
MPM Medical Anti-Fungal Cream contains one main active ingredient. This ingredient is 1% Clotrimazole. The manufacturer states that this will help relieve the itching, burning, and scaling symptoms associated with a fungal infection. It can be used for the treatment of athlete's foot, ringworm, and jock itch. Based on our research, it seems like the product does not provide 25% Undecylenic Acid which is an essential fungal fighting ingredient. Lack thereof may cause the product to be less effective in comparison with other products.
Dosage
The manufacturer recommends that the user clean the affected area and dry it properly. Next, apply a thin layer of the product over the affected area two times a day (preferably one in the morning and once in the evening). Supervise children when using this product. For ringworm and athlete's foot, use daily for 4 weeks and for jock itch use daily for 2 weeks. If the condition persists, see a doctor.
Possible Side Effects
Consult with your healthcare provider before using any new supplement.
Price
You can purchase the product from the manufacturer's website where 4oz tube of cream costs $7.13. This is cheap in comparison with other products, however, the manufacturer does not provide a discount or bundle deals to choose from. Shipping is free on orders of $100 or more within the United States.
Guarantee
We were unable to find any evidence of a money-back guarantee. For your safety and security, it is best to choose a manufacturer that provides a strong guarantee that will not leave you at risk.
Conclusion of Our MPM Medical Anti-Fungal Cream Review
MPM Medical Anti-Fungal Cream has clear instructions on when and how to use the product, and as a cream it is easy to use. There are many drawbacks to this product that need to be addressed. Firstly, we found that the product does not contain the strongest fungal fighting ingredient that has been clinically proven to be effective. Furthermore, the product is priced very low and may indicate low quality ingredients, which supports the fact that it may not be as effective as other brands. Finally, the manufacturer does not back their product with a solid guarantee. As a result, you will be left at risk and not be able to return products for a full refund of you are not satisfied. Due to these facts mentioned above, we do not recommend the use of MPM Medical Anti-Fungal Cream as an effective solution. You are better off choosing a different brand with clinically proven ingredients and a strong return policy.
Top investigative research brought to you by the experts at Customer Review.