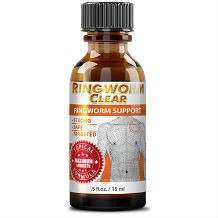 The following is an extensive review after a conclusive study on, RingWormClear. RingWormClear offers both, a ringworm relief formula that you apply to your skin, and prevent them from coming back. By using only all natural ingredients, and eliminating any chemicals that are based in your typical ring worm medications. RingWormClear works to attack the root of your infection, aimed to give you the best results possible.
To learn more about what we found out on this ring worm relief and prevention medication, please read on.
Ingredients
All ingredients are verified and confirmed through Manufacturing regulations of GMP and are made only in the USA.
Undecyclenic Acid USP (25%)
Mineral Oil
Organic Flax Seed Oil
Aloe Vera Leaf Extract
Canola Oil
Tocopheryl Acetate (Vitamin E)
Bee Propolis Extract
Walnut Oil
Menthol
Clove Bud Oil
Jojoba Oil
Lemongrass Oil
Manuka Oil
Dosing
RingWormClears instructions state that this should be applied to the infected area about 3-4 times daily. When applying this medication, use the brush that comes with it to thoroughly rub the topical formula into the infected area.
Possible Side Effects
There are no listed side effects from applying this medication to your skin. RingWormClear offers ingredients that are only from all natural substances, with no added chemicals. It is warned to never swallow, or allow RingWormClear to contact your eyes. If it is accidentally ingestion you should drink plenty of water and call your doctor immediately. If you happen to get RingWormClear into your eyes, then it directs you to rinse your eyes thoroughly, and to call your doctor immediately.
Pricing
RingWormClear offers a wide range of order options for you to choose from. If you are looking to just sample their product, they offer a 1 bottle supply at $49.95. A two bottle supply is included in their "beginner package" where you buy one, get the other one half off, listed at $34.95 each. Their next option contains a 3 bottle supply where you buy 2 at normal price and receive a third for free at $31.95 each. Their "advanced package" would allow you receive two bottles listed at normal price, for an additional two bottles for free; listed at only $24.95 each. Finally, their "top selling pack"  involves a 6 month supply of RingWormClear, where you purchase three bottles, and receive an incredible three more for free, at the listed price of $23.30.
Guarantee
RingWormClear offers its customer a 100% guarantee that they will be satisfied with their products results, or they will refund their entire purchase within 60 days. They feel strongly that their customers are going to be satisfied, and they hold their product to high regard by offering this very giving offer to all of its customers. Customers reviews indicate that those who have chosen to use this all natural medicine are very happy with their results, and continue to use RingWormClear today.
Conclusion – RingWormClear Review
In conclusion, RingWormClear appears to offer a quality product, with a dedication to guaranteeing their customers satisfaction. RingWormClear  uses only all natural ingredients in its physician proven formula, to help fight back against ring worm infections. By offering a 60 day money back guarantee, they risk losing on returns. However, by offering this consistently, it shows that customers are getting the results they need. Its easy to see how RingWormClear is one of the best, if not the best; Ring worm infection treatment.
Top investigative research brought to you by the experts at Customer Review.