DermaRite DermaFungal Antifungal Cream Review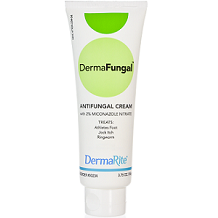 The focus of our product review to day is DermaRite DermaFungal Antifungal Cream. The maker's of this cream claim that it will help to clear up fungal skin infections, jock itch, ringworm, and athlete's foot. It can also help to stop odor, and forms a moisture barrier on the skin.
Ingredients
This formula contains Miconazole nitrate 2% and is used to treat ringworm, jock itch and athlete's foot. Miconazole is an azole antifungal that works by preventing the growth of fungus. A key ingredient, Undecylenic Acid 25% (strongest potency) is missing from this formula.
Dosage
Use this medication on the skin only. Clean and thoroughly dry the area to be treated. Apply this medication to the affected skin, usually twice a day. Dosage and length of treatment depends on the type of infection being treated. Do not apply this more often than prescribed. Your condition will not clear faster, but side effects may be increased. Apply enough cream to cover the affected area and some of the surrounding skin. After applying this medication, wash your hands. Do not wrap, cover or bandage the area unless directed to do so by your doctor. Do not apply this medication in the eyes, nose, mouth, genitals, or mucous membranes. Use this medication regularly in order to get the most benefit from it. Remember to use it at the same times each day. Continue to use this medication until the full prescribed amount is finished, even if symptoms disappear after starting miconazole. Stopping the medication too early may allow the fungus to continue to grow, which may result in a relapse of the infection.
Possible Side Effects
You should get medical help if you experience any signs of an allergic reaction, such as swelling of the throat, tongue, lips, face, have difficulty with breathing or get hives. Other possible side effects are irritation, redness, severe blistering, dry skin, peeling or itching. Inform your doctor if your condition persists or worsens.
Price
Not available for purchase from the manufacturer's website, but we found it on Amazon where you can buy a 3.75 oz. tube of cream for $7.89. There are no special incentives for new customers or discounts for bulk buying offered by the manufacturer.
Guarantee
We could not find any information about a money-back guarantee, or return policy for this product.
Conclusion of Our DermaFungal Review
DermaFungal has some encouraging elements to it. It is quite reasonably priced at around $8, and it contains an active ingredient that can have beneficial results in treating fungal infections. We did feel that the product was let down in several key areas however. The primary ingredient, Miconazole nitrate, can cause a number of side effects, and there is a key ingredient missing in this formula, Undecylenic Acid 25% (strongest potency) as well as a synergistic herbal blend. The manufacturer fails to include any form of money-back guarantee, or special incentives for new customers or discounts for bulk buyers. There are a very few consumer reviews on Amazon and of those we saw, many comments stated that the cream was ineffective in curing their fungal infections, while others suffered from scaly, red skin after they started using the product. For these reasons we suggest that you look for an alternative anti ringworm product that has a strong guarantee, bulk buying discounts, and a wide body of positive reviews.
Top investigative research brought to you by the experts at Customer Review.