Convatec Aloe Vesta Antifungal Ointment Review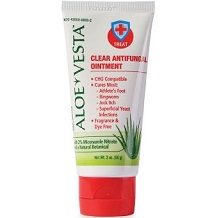 Ringworm appears on the skin as a red, circular rash, which is often very itchy and sometimes painful. It is not actually a worm, but rather a fungal infection, caused by a variety of fungal species, which can spread quickly and easily from contact with infected skin or other contaminated objects. In advanced infections, blistering and hair loss can occur in affected areas. Ringworm is fairly common but it is treated easily and there are a variety of products available which are designed to do just that. This review considers Aloe Vesta Antifungal Ointment, manufactured by Convatec, which claims to be an effective antifungal ointment.
Ingredients
The active ingredient in this ointment is miconazole nitrate. Miconazole nitrate acts to affect the proteins in fungal cells which maintain the integrity of the cell membrane. If their membranes lose integrity, the fungal cells burst and die. With consistent use, this will eventually eradicate the fungal infection. The aloe extract is used to treat the itching and swelling that accompanies ringworm. Aloe extract contains a variety of vitamins, enzymes and natural substances which promote skin healing by interacting with the receptors present on skin cells. It also reduces inflammation by moderating classic inflammation pathways, such as the cyclooxygenase pathway.
Dosage
Aloe Vesta Antifungal Ointment should be applied to the affected area twice a day- in the morning and at night after washing and drying the area thoroughly. A physician may prescribe a higher or lower dosage. The product highly recommends consulting a physician if the rash does not resolve after four weeks of use.
Research has shown that at concentrations of 1% miconazole, this compound is effective. Therefore this product is even effective for more severe infections, but users must be extra vigilant for contra-indications (side effects, allergies e.t.c.) as the dosage in this product is higher than suggested by research.
Possible Side Effects
This product can be very toxic if swallowed. It may also cause an allergic reaction if the user is allergic to any of the ingredients. Children under 2 years should not use this product unless explicitly directed to by a physician. Contact with eyes should also be avoided.
Price
A tube of 5 oz can be purchased on Amazon for $13.94, which excludes shipping and taxes. There are no discounts for buying multiple tubes at once.
Guarantee
Despite extensive research, no guarantee information could be obtained. If a customer is unsatisfied with this product, it is, therefore, unlikely they will obtain a refund.
Conclusion of Our Convatec Aloe Vesta Antifungal Ointment Review
Aloe Vesta Antifungal ointment contains ingredients which are scientifically proven to reduce fungal infections. The ointment contains a high, potent dosage of miconazole, which is effective for more advanced infections, but may also enhance side effects or adverse reactions. For those with sensitive skin, or broad chemical allergies, a more natural product should be considered.
The price of one tube is reasonable, but no guarantee is offered, so if a customer experiences adverse reactions, they will not receive a refund.
Top investigative research brought to you by the experts at Customer Review.