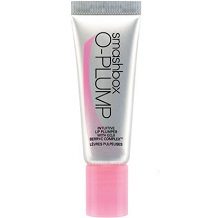 Whether it's for a selfie or as a confidence boost at work, a full mouth is on-trend. More than being on-trend though, luscious lips that are plump have been equated with youth throughout the ages. The next product we are about to review is a lip plumper called O-Plump, made by a company called Smashbox. Smashbox promises not just a pout, but a plump one. One of the interesting features of this lip volume enhancer is that it is 'intuitive'. The company describes this quality as the product being able to interact with your personal chemistry to intensify your existing shade of pink so as to add color and shine to your pout.
Ingredients
The main ingredients are:
Goji Berry-C Complex
Gingermint
Ginkgo biloba
Pomegranate seed
Marine botanicals
Peppermint oil
Marine botanicals in cosmetics are usually used as powerful antioxidants that protect your cells from damage and slow down any existing signs of aging. The other antioxidants included are pomegranate seed and Goji Berry-C complex, which appears to have been patented. Goji berries not only reduce the signs of aging but aid firmness too. It is good to see peppermint oil included – this is a clinically lauded ingredient in lip volumizing research. Allied to the working of peppermint oil is ginger mint. Ginkgo biloba is also a potent anti-inflammatory and anti-aging remedy and acts as a natural sunscreen. Avocado oil deeply nourishes and hydrates.
This formula places emphasis on keeping the mouth and lip area youthful and smooth, so as to banish dry and cracked skin. However, it does not place enough emphasis on hydration and moisture, which is key to plumping the lips, nor is there enough by way of ingredients that stimulate collagen production. Collagen is also critical; without it, you will struggle more to increase lip volume. In particular, the most clinically proven ingredients to work such as amino acids, wheat extract, Willow Herb Flower and Pink Purslane are missing. In this formula, the collagen-producing and rejuvenating properties of vitamin C and E are most likely derived from the fruit and plant oils, but they don't compensate for not adding them in separately. In fact, a highly effective lip plumper contains a patented form of vitamin C that delivers it in a stable form, making it many times more effective – this is how important it is.
Instructions
The instructions say simply to apply a generous coat from the squeeze-type wand to your bare lips and to watch the reaction as your lips turn rosy. We would have preferred more detailed instructions such as whether you should prepare to feel any sensations, and guidance on how long to wait to apply lipstick should you wish to do so.
Price
On the product website, the squeeze-type wand costs $27. If you place an order of more than $40, you'll receive three mini products. There is an auto-ship order but we always caution against these, as they are sometimes notoriously difficult to cancel.
Guarantee
If you've purchased the item online from Smashbox, you qualify for a free return even if you have opened and started to use the product. Smashbox takes care of the return shipping and postage, unlike the majority of cosmetics houses. The one thing that isn't clear though is how long you have to request a return. There is enough information though as to the clear, direct process you should follow so as not to make this a case of having a vague policy.
Conclusion of our O-Plum Review
We like that Smashbox is cruelty-free as this is a fundamental aspect of planetary and social responsibility. We also find the Goji Berry-C complex, which appears to have been patented, unique. It is unusual for a lip plumper to be able to enhance the existing undertone of your lips so as to intensify just the perfect shade of pink for you. We would have preferred Smashbox though to explain more about the working of its ingredients, which are skewed towards nourishing and revitalizing your lips, rather than plumping them up. The action of volumizing lips requires that several key aspects be targeted for long-lasting effects, which is why any effective plumper should contain at least five patented ingredients, and O-Plump does not meet this criterion. The most hard-working lip plumpers have patents that cover the delivery of stable vitamin c, antioxidant activity, resveratrol and collagen production, moisture retention and more. In addition, key clinically necessary ingredients proven to work best such as amino acids and wheat extract are missing. Consumer feedback confirms what this formula tells us: while it is good at creating a smooth, shiny and healthy pink mouth appearance, the effect of enhancing your actual lip volume is minimal.
Top investigative research brought to you by the experts at Customer Review.