Skin Chemists Advanced Lip Plump X-treme Review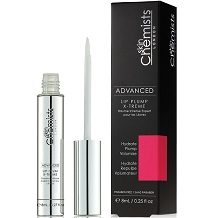 Finding a lip plumper that can give you long-lasting results can be tricky. Our review today is of Advanced Lip Plump X-treme as made by Skin Chemists. The company says it has a new, improved formula. It seeks to actively improve the shape and fullness of your lips, while also nourishing and hydrating them. It is formulated to work on all skin types.
Ingredients
The main ingredients are:
Volulip plumps and hydrates by stimulating hyaluronic acid. The latter retains moisture far better than other compounds. Hotflux is designed to increase blood flow to the lips to encourage a fuller out. In contrast with the warming effects of Hotflux, Corum is used. It is a menthol-based cooling agent which also encourages plumpness. It is not clear if these are patented ingredients or not, but at any rate, to be effective it has been shown that you need at least five patented, clinically proven ingredients in the formula, with each patent offering a highly specific, targeted approach to each element that will give you a long-lasting, full pout. Of concern is that no explicit mention is made of vitamins A and E, wheat extracts or amino acids. These are key components, clinically proven to stimulate the growth of new cells, collagen production, and firm your mouth. The firmer your mouth is in a natural way, the fuller it will look. A host of other important, effective and highly researched ingredients are missing such as Willow Herb Flower and Pink Purslane.
Instructions
The manufacturer merely tells us to apply the product like lip gloss. We do not feel that these instructions are adequate. There is no indication of how long you need to wait before seeing results or applying lipstick, for example.
Price
This lip plumper comes with a hefty price tag. It is available to purchase for $166.60. There are no discounts, best value bundle deals or purchasing options which would provide you with an effective discount.
Guarantee
If your product is in the original packaging and provided you've included a cover letter, you'll be refunded if you send back your order within 30 days. It is not clear if, in fact, you will be refunded should you have opened the product. We feel the manufacturer should have been explicit about whether opened products qualify for a return given the very high price of this purchase.
Conclusion of Our Advanced Lip Plump X-treme Review
The formula places a big emphasis on hydrating your lips and retaining moisture, which is one of the key aspects of achieving increased volume. The company is also more actively involved in research, and the fact that they can revisit formulae to improve existing ones is commendable. But, given that this plumper is on the extremely high-priced end of the scale, it would have benefitted from even more improvements. The first would have been to address the ingredient deficit we outline under Ingredients. The second is that we have consistently found that in order to be highly effective, a product should have a minimum of 5 patented ingredients. This does not meet that criteria – in fact, it is not clear if a single patent has been obtained. Patents signal superior ingredient forms that are more hard-working and produce measurably innovative results. Price is a major factor here so as a third point, discount incentives would have been in order but there are none. Finally, the guarantee is flimsy compared to other highly confident manufacturers who are able to offer 60-, 90-, and 365-day guarantees.
Given these factors and that consumer feedback regarding customer service is poor and efficacy is moderate as opposed to good, you would be better off purchasing another product containing the missing clinically proven ingredients and a minimum of five patented ingredients.
Top investigative research brought to you by the experts at Customer Review.