Elf Lip Primer and Plumper Review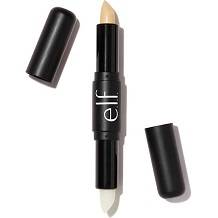 This review will take a close at Elf Lip Primer and Plumper. It is a 2-in-1 product, with the cinnamon scented Plumper, which is intended to enhance your lips with a subtle plumping tingle effect for fuller, larger looking lips. It also comes with the Primer, which creates a base for lip color for no budge, no smudge pigment that lasts all day. Both of them provide you with longer lasting lip color and sexy plumped lips.
Ingredients
The Elf Lip Primer and Plumper is a 2-in-1 product, and therefore, has two lists of ingredients.
Ingredients for Primer
Ethylhexyl Palmitate
Talc
Ozokerite
Polyisobutene
Synthetic Fluorphlogopite
Bis-Diglyceryl Polyacyladipate- 2
Candelilla Wax
Ceresin
Carnauba Wax
Microcrystalline Wax
Tricontanyl PVP
Lip Plumper Ingredients
Ethylhexyl Palmitate
Carnauba Wax
Microcrystalline Wax
Ceresin
Ozokerite
Candelilla Wax
Neotame
Fragrance
It is not clear which of these ingredients are active, or inactive, because there is no indication on the website.
Nevertheless, they all play different roles in fulfilling the promises of the product, such as providing a plumpy looking lips.
Instructions
Apply the lip primer to bare lips and blend out evenly with a lip brush, then allow it to dry before applying lip color. Apply the lip plumper over the primer or lip color. Allow for the tingling to subside before applying more product.
The manufacturer advises that, if the plumper causes a strong burning sensation, immediately wipe away with a cleansing cloth or wash with water.
This statement is not clear because some plumpers cause a burning sensation anyway when they work. It is not clear whether you should discontinue this product if it causes a burning sensation or if you should try it again.
Price
Surprisingly, the price of this product is only $3.00. We have never reviewed a plumper product with such a low price before. The low price could be a good thing for some people, however, it could also mean that the product is of poor quality.
You can purchase it through Elf's website, or through third-party retailers' websites for the same price. There are no discounts available. However, discounts might not be necessary considering its very low price in comparison to most similar products.
Guarantee
Sadly, Elf Lip Primer and Plumper are not covered by a money-back guarantee. You cannot return it if you are unhappy with the results.
Conclusion of Our Elf Lip Primer and Plumper Review
Elf Lip Primer and Plumper might be able to give your lips a plumpy look and a beautiful colour. It has two products in one, and it is low in price. However, low price could also mean poor quality.
Moreover, a number of consumers have benefited from this product, however, there are also many customers who experienced problems with it. Some complain that it caused bumps on their lips and inside the mouth, while some experienced burned lips. This is a concern as it shows that it is not safe. Another worry is that it is not backed by a manufacturer's guarantee. Due to these reasons, we recommend that you rather look for another product.
Top investigative research brought to you by the experts at Customer Review.