SkinMedica HA5 Smooth and Plump Lip System Review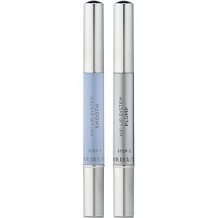 Fuller plumper lips are easy to achieve with the right product, the trick is knowing which product contains all the right ingredients to help achieve your lip goals. In this review, we take a closer look at a product called SkinMedica HA5 Smooth and Plump Lip System to see if this product lives up to its claims. This is a two-step program that is said to help smooth fine lines, plump the natural appearance of your lips as well as provide hydrating properties. The product is also said to enhance the rosy color of the lips.
These are the facts
Ingredients
Hydrolyzed Hyaluronic Acid
Sodium Hyaluronate
Vitis Vinifera (Grape) Flower Cell Extract
Vibrio Alginolyticus Ferment Filtrate
Alteromonas Ferment Extract
Porphyridium Cruentum Extract
Whey Protein
Plankton Extract
Trehalose
Urea
Hydrogenated Polyisobutene
Glycine Soja (Soybean) Oil
The only ingredient that the manufacturer bothers going into detail about is Hyaluronic Acid, a nonsulfated glycosaminoglycan that is said to fight the signs of aging and restore collagen that has been lost. This ingredient is usually used in evasive lip surgeries and is injected directly to the lip, however, there is not much evidence that this ingredient is beneficial just by applying it on the surface of the skin. The manufacturer fails to disclose which ingredients are active, this is a downfall as research shows that in order to provide any measurable results, a lip serum should contain at least 10% active ingredients, 5 of which should be patented. This formula also lacks key ingredients such as WIllow herb Flower, Peppermint oil and Pink Purslane which help to even skin tone, boost the elasticity of the skin and increase hydration.
Instructions
SkinMedica advises you to use both products throughout the day when needed. For the best results, it should be used at least 3 times a day. Step one should be applied around the lips and lip contour. Step two should only be applied to the lips and not the surrounding skin. The manufacturer claims that the product can be applied under lip cover or directly over it.
Price
For a net weight of 1.5 g (both steps), the price is $68.00, this product seems to be available for purchase directly from a physician and not from the manufacturer. The price is fairly expensive and since there are no bulk discounts, continued use of this product may land up costing you more than you bargained for. There does appear to be some sort of reward program that you can sign up for however, it does not mention how much savings you would be able to get from purchasing multiple products over time.
Guarantee
There does not seem to be any guarantee in place for this product and there is no refund policy in place on the site. Since you cannot purchase this product directly from the manufacturer, physicians who stock the product may have their own policy in place should you find that this product has not worked for you.
Conclusion of Our SkinMedica HA5 Smooth and Plump Lip System Review
SkinMedica offers consumers a user-friendly website to navigate and has included some information about their main ingredient, we also like that this product is TSA friendly. With that being said, we do have a few concerns about the product. The product lacks vital ingredients which aid in boosting elasticity, replenishing moisture and smoothing out fine lines, it also lacks clinically proven ingredients which have been patented. Another concern is the price point, it does seem fairly high and the fact that you cannot buy this product online directly from the manufacturer is very inconvenient.  The biggest downfall is that this product does not come with any form of guarantee which means that the manufacturer does not really give us any confidence in the formula delivering any measurable results. A two-step program is also very inconvenient seeing that you have to buy and apply two products and carry them with you during the day. Based on our findings, we feel that this is not the best lip plumping solution on the market.
Top investigative research brought to you by the experts at Customer Review.