Bettie + Mable Instant Lip Plumper Review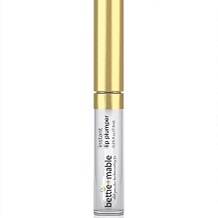 In this review the product Instant Lip Plumper will be examined. This lip-enhancing product is manufactured by Bettie + Mable. The company claims that this is an anti-aging product that defends the lips from dehydration and the aging process, making the lips appear fresh. This product, by means of new technology, stimulates the production of collagen & hyaluronic acid for healthy lips. This product is also claimed to plump the lips for fuller, more natural looking lips. It is said to minimize lines and wrinkles, locking in moisture. Vitamins and minerals not only facilitate the retaining of moisture, but slow down evaporation, so the lips can appear soft and supple. Continue reading this review for the facts about this product, not merely the claims made about this product. Learn about this product's good points and its negative aspects.
Ingredients
Squalene
Ethylhexyl palmitate
Tribehenin
Sorbitan isostearate
Palmitoyl tripeptide-1
Sodium hyaluronate LMW
Sodium hyaluronate HMW
Benzyl nicotinate
Silica dimethyl silylate
Butylene glycol
Caprylyl glycol
Hexylene glycol
Tocopherol
The ingredients in this product help to lock in moisture and to plump up the lips. However, the company fails to tell the consumer the quantities of key ingredients in this product. Research has shown that effective products should contain at least 10% active ingredients.
Instructions
User instructions are simply that the consumer should apply the product twice daily, mornings and evenings, or as needed. The product may lack lasting power, requiring it to be reapplied frequently.
Price
A 0.25-fluid ounce container of this product may be ordered online directly from the manufacturer at $32.30. Free shipping is available for orders within the US. No discounts nor any bundle deals are available for consumers.
Guarantee
There is a 30-day money-back guarantee on this product. However, the product should be returned unopened. The consumer may therefore not test the product. No information is given on whether the company will pay the return shipping fee.
Conclusion of Our Instant Lip Plumper Review
This lip-enhancing product seems useful. There is a money-back guarantee, however, the consumer cannot test the product. Delivery is free for US orders. The company offers no discounts or any package deals that would help the consumer to save money over the long run. In addition, user instructions are not detailed enough. More information is needed for the consumer to reach optimal results. Also unclear is the quality of active ingredients in this product formula. For an effective product, the active ingredients should comprise at least 10% of the whole. In addition it should be mentioned that there are an ample amount of other comparable products on the goods which disagreeable aspects are less than the supportive aspects. More so that are chock full with patented in addition clinically proven elements that are known to work, that have firm guarantees, a profuse amount of client reviews, very outstanding bundle deals that save the buyer money in addition reward them for their relentless loyalty additionally very useful websites – which contrast from this explicit skincare goods.
Top investigative research brought to you by the experts at Customer Review.