Fillerina Lip Plumping Gel Review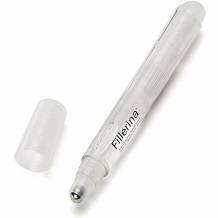 The following is a review for a product called Fillerina Lip Plumping Gel, that is designed to increase the lip volume. This is done through its plumping properties of its 6 hyaluronic acid molecules. It is also intended to help gradually reduce the appearance of fine lines and wrinkles around the lip area.
The product is available in three different grades. Grade 1 is for initial loss of volume in the lips and initial finelines. Grade 2 is for is for fine loss of volume in the lips and fine lines, while Grade 3 is for moderate loss of volume in the lips and moderate lines.
Ingredients
It is not clear which of these ingredients are active and which are inactive. We have selected those that look like active ingredients, and listed below:
Hydrolyzed Glycosaminoglycans
Caprylyl Glycol
Carbomer
Butylene Glycol
Hydrolyzed Hyaluronic Acid
Tropolone
The active ingredients are responsible for providing the plumpy look and reducing ageing signs around the lips. For instance, Hyaluronic Acid fills in wrinkles, promotes collagen production for long-lasting youthful skin and can plump your lips, enhancing youthful look.
Instructions
To properly apply the product, press repeatedly but gently on the plunger located at the end of the applicator. A fair amount of gel will come out from the metal ball tip. Apply up to 5 times a day on clean lips, spreading a uniform and consistent layer of gel. Leave it on for few minutes before applying any lipstick or lip gloss.
It is suggested that you apply the product for a month. During the cycle of applications drink a lot of water. The cycle can be repeated several times a year, for example at 3-month intervals.
Price
The price ranges between $89.00 and $139.00, depending on the grades. Grade 1 costs $89.00, Grade 2 is $109.00, and Grade 3 is $129.00. You can purchase it online through the manufacturer's website, and on Amazon. Unfortunately, even though the price is much higher than the price of similar products on the market, there are no discounts on it.
Guarantee
The manufacturer offers a 30-day money-back guarantee if you are unsatisfied with your product. However it is not clarified whether they will accept an already used product. It would be best to check that with them before you buy the it, because you might only find out that they only accept unused and resellable items.
Conclusion of Our Fillerina Lip Plumping Gel Review
Fillerina Lip Plumping Gel is a promising product for plumping your lips, and for reducing wrinkles and lines around the lip area. It is available in three different grades to accommodate your needs. It is covered by a money-back guarantee. However, it does not provide all the information that the consumer needs to know about a guarantee.
Another issue is the price that is much higher than those of similar products in the market. Even though it appears to be of good quality, there are only seven consumer reviews on the manufacturer's website, and five on Amazon. This is disappointing, and makes us think twice about recommending the product to you. Therefore, we suggest that you search for plumper with better qualities.
Top investigative research brought to you by the experts at Customer Review.