Plump It! Volumising Lip Plumper Review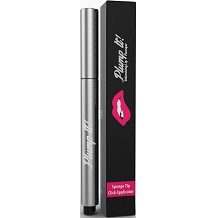 This is a review of a product called Plump It! Volumising Lip Plumper. The manufacturer claims that this product will provide 'amazing' plumper, fuller, and softer lips from the first application. However, can the product live up to these claims? We shall examine the product formula as well as customer support to determine if this product is a wise purchase choice or not.
Ingredients
Phenyl Trimethicone
Glycerin
Hydrogenated Polydecene
Phenoxyethanol
Capsicum Frutescens Fruit Extract
Phenyl Trimethicone, a derivative of silica, is used to condition skin while glycerin moisturizes skin, forming a protective and hydrating layer. Hydrogenated Polydecene is a moisturizing agent used to create a smooth and silky feeling on the skin. Capsicum Frutescens Fruit Extract increases circulation, decreases inflammation, reduces pain, and creates a sensation of heat. While these ingredients may be somewhat beneficial in moisturizing lips, there are very few ingredients targeted at increasing the plumpness of lips. The lack of patented ingredients which are proven to provide results, such as Trylagen PCB which restores collagen levels or Volulip which increases volume and firmness. Furthermore, there are many ingredients that raise concern. For example, Phenoxyethanol (which is banned in Japan) is known to be harmful when absorbed through the skin – as it is linked to causing reproductive damage, kidney damage, depression, dizziness, headaches, and nausea to name a few. Trideceth-10 (another ingredient in the formula) can contain harmful impurities and may become an irritant if used on broken skin. The formula also includes nonactive thickeners like Sodium Polyacryloyldimethyl Taurate. There is no GMP certification or information stating that this product is cruelty-free. In saying so, the quality and ethics of this product and its production methods are in question.
Instructions
The manufacturer provides clear instructions on how to best use this product. After hydrating lips, apply the product to lips by clicking the pen applicator (ensuring that the applicator tip is clean after each use). A tingling sensation will be felt after application. After 5 minutes, the product will be absorbed and other lipsticks or glosses can be added. The manufacturer claims that this product can be used as much as possible as it is completely safe, however, the ingredients suggest otherwise. The lack of concentration of key active ingredients prevents us from discerning if this product is effective.
Price
Plump It! Volumising Lip Plumper can be purchased from the manufacturer's website, where a 3ml tube with applicator pen retails for £19.99 ($25,80). There is a 10% discount available when products are purchased on a subscription service, however, these schemes are usually difficult to get out of and may not be worth the savings. Otherwise, there are no bulk offers available to entice sustained use of this product; which would be required to see limited results as this formula is lacking popular active ingredients.
Guarantee
The manufacturer offers a 14-day period where products purchased are valid for returns. Products may not be used if customers wish to qualify for a refund and require a proof of purchase. This is rather limited as this does not give the customer the opportunity to test the product for themselves. There are very few customer reviews available online and of those reviews, many customers complain that the product is overpriced and does not work. This does not inspire much confidence in claims of product efficacy.
Conclusion of Our Plump It! Volumising Lip Plumper Review
The manufacturer claims that Plump It! Volumising Lip Plumper will provide incredible results, however, upon a closer look at the ingredients – we were concerned at what we found. While there were certain ingredients included in the formula that may deliver on some of the claims, such as moisturizing and soften lips, there are very few ingredients targeted at increasing the plumpness of lips. The lack of patented ingredients, as well as GMP certification, raises questions about the quality and efficacy of this product. Furthermore, the addition of potentially harmful ingredients such as Phenoxyethanol is a great concern. Although the instructions were clear the price is not sustainable and may become too costly to maintain. While there is a manufacturer's guarantee, it is very limited and the lack of customer reviews does not inspire much confidence in the product. For these reasons, we feel that this product does not live up to the manufacturer claims and thus, do not recommend Plump It! Volumising Lip Plumper as a wise purchase choice.
Top investigative research brought to you by the experts at Customer Review.