Stila Lush Lips Water Plumping Primer Review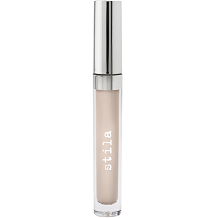 This is a product analysis and review for Stila Lush Lips Water Plumping Primer, a lip plumper that claims to volumize, smooth and moisturize your lips – leaving your pout looking youthful and full. With pigmentation neutralizing and anti-aging properties, this lip cosmetics product promises to provide your lips with more fullness.
Ingredients
Cyclopentasiloxane
Ethylhexyl Palmitate
Isohexadecane
Peg-40 Hydrogenated Castor Oil
Zea Mays Kernel Extract
We were happy to find that this product is cruelty-free and that it was not tested on animals. Consisting of an extensive list of mostly synthetic and chemically based ingredients, it is uncertain if these compounds have been verified through clinical testing (unlike other products that have a minimum of 10% clinically proven ingredients). Cyclopentasiloxane is a silicon-based compound that is predominantly used in cosmetics as an emollient, solvent and emulsifier. Ethylhexyl Palmitate is another emulsifier that can also act as a fragrancing agent. Influencing the texture of the skin, Isohexadecane is used to combat oily skin. As the polyethylene glycol derivatives of hydrogenated castor oil, Peg-40 Hydrogenated Castor Oil is a commonly used surfactant and solubilizer. One of the more natural ingredients on this list, Zea Mays Kernel Extract is derived from corn and possess skin conditioning and protective qualities.
Instructions
With such a long list of artificial ingredients, we were surprised that we could not find any mention of how to use this product. This could pose a problem as overuse might lead to problems or side effects – if usage is not stipulated correctly.
Price
You can buy this product for $21 from the manufacturer's website, with free delivery for orders made within the United Kingdom. Unfortunately, the manufacturer does not sell to anyone who resides outside of the UK or  Republic of Ireland.
Guarantee
If you reside in the UK or in the Republic of Ireland and are not satisfied with your purchase, you have the option to return the product. Ensuring that the return is made within 14 days of receipt. While a refund is offered for items purchased, they will not pay for damaged or lost items. The product must be in its complete, unused and original condition. You will also be required to pay for postage and shipping.
Conclusion of Our Stila Lush Lips Water Plumping Primer Review
There are thousands of lip plumping cosmetic products available on the market and due to this saturation, it is important to properly research what you are using on your lips. In this review, we looked at Stila Lush Lips Water Plumping Primer and found positive reviews regarding the effectiveness of this plumper. With regards to the manufacturer's approach to animal testing, we appreciated that they took a cruelty-free stance. However, due to the fact that the ingredients were not clinically proven and that they largely consisted of chemically-derived compounds – the lack of directions did concern us. This coupled with the fact that this product is not sold to individuals residing outside of the United Kingdom, we believe that other lip plumpers would be a better choice for your beauty routine.
Top investigative research brought to you by the experts at Customer Review.