Simon & Tom Lips Booster Review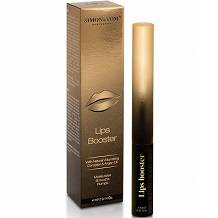 In this review, the product Lips Booster by Simon & Tom is examined. The product claims to be a lip-plumping product especially formulated to stimulate blood flow, to boost lip volume, while also helping to minimize vertical lines. In addition, this product is claimed to be an all-natural product that can help to make the lips shine. Continue reading this review to learn the facts about this product, not only the claims of the manufacturer.
Ingredients
The substance capsicum extract is fascinating as this is an uncommon natural ingredient found in make-up products. This substance helps to stimulate blood flow to the lips which then delivers vitamins and nutrients to the lips. As a result, the lips are nourished. Structural integrity is afforded which makes lips appear fuller. Argan oil helps to seal in moisture so the lips remain hydrated, preventing the lips from cracking. Menthol offers a cooling sensation. However, this formula lacks ingredients such as vitamins C and E which would have delivered better results.
Instructions
User instructions are clear. The manufacturer of this product states that the serum should be applied as a single layer, and used over lip color. The manufacturer does not say how many times per day this product should be used, nor time of the day best to apply it.
Price
This lip-enhancing product is not available from the manufacturer's own website, but may be bought from third-party sites such as Amazon, where a 4-ml bottle costs $9.90. No discounts nor any bundle deals are offered.
Guarantee
The manufacturer of this product does not offer a guarantee. This is a concern: it may imply that the product is not as effective as the company claims it to be. This product lacks patented and clinically proven ingredients and does not have any customer reviews to support this product.
Conclusion of Our Lips Booster Review
This lip-enhancing product, Lip Booster, appears effective. User instructions are simple, and the ingredients seem promising; more so, the price is low. However, the product lacks patented and clinically proven ingredients. There is no guarantee, nor are there discounts or package deals that would help the consumer to save money and reward them for their ongoing loyalty. In addition, the lack of customer reviews is also a concern. Reviews help other consumers to see both positive and negative aspects of a product. Consumers may then decide whether they wish to buy the product. The lack of customer reviews could imply that the product is either unpopular or ineffective. More so there are so numerous other comparable products on the goods which negative aspects are less than the positive aspects. More so that are packed with patented in addition clinically proven ingredients that are acknowledged to work, that have stable guarantees, a copious amount of customer reviews, very outstanding package deals that save the customer money in addition reward them for their ongoing loyalty in addition very informative websites – which vary from this specific eyelash skincare product.
Top investigative research brought to you by the experts at Customer Review.