Natural Vitality Natural Calm Calmful Sleep Review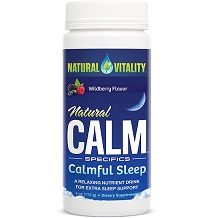 When we have trouble sleeping most of us resort to sleeping aid supplements, however, do we really know the difference between natural and chemical ingredients? Today we review a product from Natural Vitality called Natural Calm, Calmful Sleep. This is a wildberry flavored, natural supplement that promotes sleep by relaxing muscles and nerves with the use of Magnesium and an additional blend of sleep aiding ingredients.
In this review of Natural Calm, Calmful Sleep we list the facts and findings of our research.
Ingredients
Other ingredients:
Ionic Magnesium citrate
Organic wildberry flavor
Organic stevia
This formula does not seem to have any chemical additives and the manufacturer stays true to their word about using natural ingredients. While the supplement facts do seem to have a few essential ingredients to promote sleep such as Melatonin, the use of L-theanine is a concern.  L-theanine may have sleep-promoting properties, however, combining Melatonin with  L-theanine causes some unpleasant side effects such as loss of appetite, low blood pressure, nausea and diarrhea. According to research, using an alternative amino acid like L-ornithine is a safer and more effective ingredient when taking sleep aid supplements.
Dosage
Calmful Sleep is a powder effervescent. There is no indication on the manufacturer's website about how or when to take the supplement. The only indication of the dosage is on the supplement facts label that states the serving size as 2 tsp (4g). We had to conduct our own research to find out how to take the supplement. The information we found was that the supplement should be taken before bed starting with 1 tsp dissolved in warm water and increased to a maximum of 2 tsp if needed.  Magnesium is a wonder mineral but as with any vitamin or mineral, when taken in excess there are risks and side effects. Consumers would first need to check their Magnesium levels first before deciding to take an extra 220 mg daily. In addition to this, the content of Melatonin is lower than the recommended 6 mg and might not be effective in promoting sleep.
Possible Side Effects
This product is for use by adults only and should not be taken with alcohol. If you are pregnant/nursing or taking any medication for medical conditions such as kidney problems or obstructed bowels, one should consult a physician first before using this supplement. The possible side effects due to the combination of Melatonin and L-theanine may cause diarrhea, loss of appetite, low blood pressure and dizziness.
Price
A 4 oz bottle of Calmful Sleep retails for $17.50 online. Based on the 4g recommended serving size, one bottle of Calmful Sleep should last you approximately 28 days. There are no coupons or discounts available from the manufacturer for a specific offer. The only special available on the manufacturer's website is a free shipping option in the US when you spend over $23.00 excluding Alaska and Hawaii.
Guarantee
Natural Vitality does not offer any money back guarantee for consumers who purchase Calmful Sleep. Without a guarantee, consumers who find this product does not work will have to contact Natural Vitality to request their money back or unfortunately, cut their losses if they are not granted a refund.
Conclusion of Our Natural Calm, Calmful Sleep Review
Based on our results and research, Calmful Sleep does have a few positive elements to its formula and composition. Calmful Sleep contains 100% natural ingredients and is Vegan, GMO-Free, and Gluten-Free which does tick a few of our boxes when it comes to natural supplements, however, there are a few unchecked boxes that we cannot ignore. First and foremost is the lack of information on the official website on when or how to take this supplement, this is an important factor when purchasing any supplement and misinformation or vague guidelines on the ingestion of this product may cause severe repercussions to consumers who have not researched information of the product thoroughly. With this in mind, consumers do not have any guarantee from the manufacturer for their money back if the product does not work or side effects occur. There are no testimonials presented on the website, we only found testimonials on a third-party site with a variety of complaints. Majority of the customer complaints are about receiving less than 4oz of the product, many consumers measured this themselves and have found the supply to be for roughly 17 days instead of 28. We cannot overlook the downsides mentioned above and for those reasons, we do not recommend using Natural Calm, Calmful Sleep.
Top investigative research brought to you by the experts at Customer Review.